Are you sitting too much at home?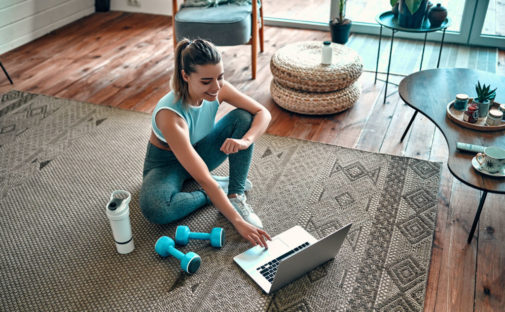 Maybe you feel too busy to exercise – working, running errands and taking care of kids, among other things.
But you still need to work in exercise when you can, especially when you might feel cooped up while working from home. If you are, you're even missing out on walks to the lunchroom, the water cooler, conference room or even out to your car in the parking lot.
Michelle Medvecz, a nurse practitioner specializing in endocrinology, diabetes & metabolism and weight management at Aurora Medical Center in Oshkosh, WI. says five minutes can be just enough to energize you and refocus your thoughts. Take that time to do a bit of exercise and revitalize your body and mind.
Try these easy activities:
1 minute of push-ups – off the wall or the knees if needed
1 minute of jumping jacks – if you can't jump, move your arms and march in place
1-minute plank or alternate with a downward dog – try to hold for the whole minute.  If you need a break, work up to it.
1 minute of jumping jacks again
1 minute of lunges on alternating legs. How low can you go?
"It's important to work on your form and technique. As you get stronger, modify these exercises to make them harder by increasing the speed of repetition.  Don't worry if you have to work up to it, it's all about improving," Medvecz says.
Research has shown that sitting for long periods of time can be linked to increased blood pressure, high blood sugar, excess body fat around the waist and higher cholesterol levels.
Taking a quick five-minute break to exercise can improve circulation and improve joint mobility. It's amazing how good getting up and moving makes you feel.
Are you trying to watch your weight? Take a free online quiz to learn more about your healthy weight range here. 
Related Posts
Comments
About the Author
Amy Werdin, health enews contributor, is a provider public affairs coordinator with Advocate Aurora Health. She has been with the organization for 19 years, starting out in marketing for Advanced Healthcare, then Aurora Health Care and now in her current role. She enjoys reading, movies and watching her two daughters dance and her son swim.