$49 saved his life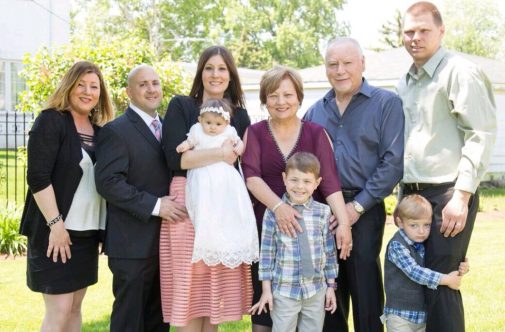 "The doctor told me it was the best 49 dollars I ever spent," says Vito Lullo. He's referring to the cost of a coronary artery scan that measures the amount of calcified plaque in the coronary arteries. Offered at many locations across Illinois and Wisconsin, the heart healthy CT scan is a safe, non-invasive, painless screening that can help determine your risk for a heart attack.
At the age of 59, Lullo decided, on a whim, to have the scan when his niece mentioned the screening. He had been feeling some pressure in his chest periodically when mowing the lawn, but it would disappear and he wasn't worried. The results of the scan, did however, show cause for concern.
Based on the results, within a week, Lullo's physicians ordered a nuclear stress test, an angiogram and then triple bypass heart surgery to open blockages ranging from 80 percent to 100 percent. And once in surgery, yet another blockage was found, resulting in quadruple bypass.
"Fortunately, the coronary calcium CT scan revealed multi-vessel heart disease that was critical in nature requiring bypass surgery," says Dr. Shoeb Sitafalwalla, Lullo's cardiologist at Advocate Lutheran General Hospital. "It would have certainly led to a much more devastating outcome had it not been addressed."
"I had no symptoms, no history of heart disease in my family, no reason to go to the doctor," says Lullo. "I just knew I wasn't feeling right. A 15-minute scan sounded easy, and that's what pushed me to do it. Thank God I did."
"Mr. Lullo demonstrated sound mind and judgment by taking proactive steps in living a heart-healthy life," adds Dr. Sitafalwalla. "The coronary calcium CT scan is an affordable, non-invasive and insightful test in identifying heart disease before it progresses into a heart attack or something worse."
Lullo credits the scan with saving his life and possibly others he loves. "I keep thinking about how often I was driving my grandchildren around in the car on the expressway, taking them to the park and elsewhere," says Lullo. "I get so emotional thinking about what might have happened if I had a heart attack behind the wheel."
He offers these words of advice to someone who isn't feeling quite right. "Listen to your body. Go get the scan. Don't be afraid to get checked out. Get ahead of the game."
So who should consider the heart healthy CT scan?
Consider this screening if you are at least 35 years old, have not been previously diagnosed with heart disease, do not have a pacemaker and have at least two of the following risk factors:
Diabetes
High blood pressure
High cholesterol
Family history of premature heart disease
Men over age 45
Women over age 55
Obesity
Smoker
Learn more about how to schedule a heart scan in Illinois or Wisconsin. 
Related Posts
Comments
About the Author
Evonne Woloshyn, health enews contributor, is director of public affairs at Advocate Children's Hospital. Evonne began her career as an anchor and reporter in broadcast news. Over the past 20 years, she has worked in health care marketing in both Ohio and Illinois. Evonne loves to travel, spend time with family and is an avid Pittsburgh Steelers fan!