Treating her heart from 1,400 miles away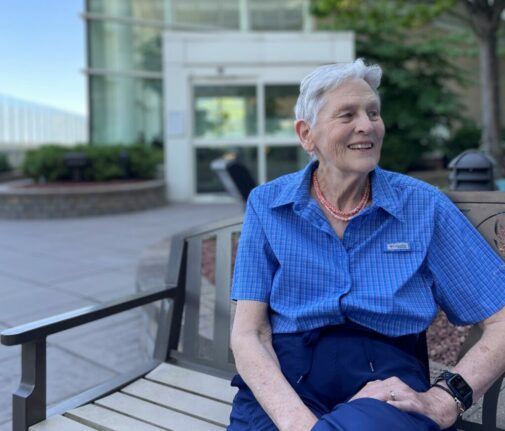 76-year-old Mequon, Wis., resident Mary Korte was diagnosed with heart failure in 2013. For years, she's been treated with several medications and even had two pacemakers surgically implanted. Heart failure can be a dangerous condition, with fluid buildup and other complications often requiring patients to be admitted to the hospital. That all changed a few years ago when she had a CardioMEMs® device implanted in her pulmonary arteries by Dr. Nasir Sulemanjee, medical director of the advanced heart failure and transplant program at Aurora St. Luke's Medical Center.
"It's a life changer. It helps my heart stay as strong as it can," says Korte. "I'm not afraid to travel. I know someone has my back — or in this case, my heart."
The implant, which is inserted via a catheter through the vein in the groin or neck, provides readings on intra-cardiac pressure and other vital signs. Having the implant has allowed Korte, a retired teacher, to travel the globe, taking the device with her on trips to Hawaii, Maine, Mexico and more. She recalls being treated by her care team at Aurora St. Luke's while 1,400 miles away at 8,000-feet elevation in Ruidoso, New Mexico. Her care team based in Milwaukee contacted her to adjust her medication to account for the differences in her intra-cardiac pressures, helping keep Korte healthy, even before she experienced any symptoms.
The CardioMEMs device allows doctors to monitor pulmonary pressures in a patient's heart remotely, which in turn allows them to adjust medication or other interventions in real time, keeping patients healthy and out of the hospital.
"It gives you confidence that someone who knows you is tracking you and they're going to catch problems before they get out of hand," says Korte.
The device has reduced hospitalizations for Advocate Aurora heart failure patients by 50% — including Korte, who has not been admitted even once since receiving her implant.
"The hope is that eventually this device allows patients to monitor themselves, much like a glucose meter for diabetes patients. CardioMEMs helps us treat heart failure patients more intelligently and effectively, allowing our patients to live a healthier and fuller care-free life," says Dr. Sulemanjee.
Want to learn more about your risk for heart disease? Take a free online quiz to learn more. 
Related Posts
Comments
About the Author
Ben Hoekstra is a public affairs coordinator with Advocate Aurora Health. He previously worked in marketing and PR for various Milwaukee nonprofits and received his master's degree in Corporate Communications from Marquette University. He enjoys the outdoors, cooking, and all things Milwaukee.