Does your body shape signal heart problems?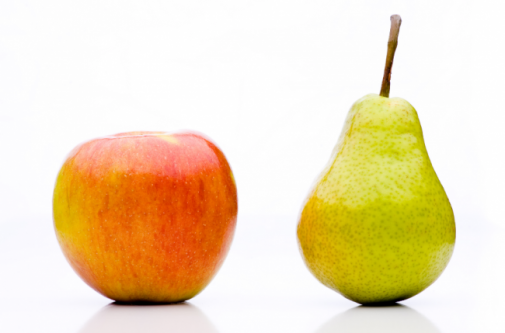 We've all heard the old adage: an apple a day keeps the doctor away.
This may be true in more ways than one.
Having an apple shaped body – one where too much fat is stored around the middle (waist) –  may be your most important clue that you are at risk for heart disease and other health problems, including Type 2 diabetes and cancer.
The simple reality is that your risk is linked to where your body stores excess fat. So, paying attention to the size of your waistline may be a more effective strategy for good health than focusing strictly on your Body Mass Index (BMI), or your overall weight.
Body types shaped like a carrot, a pear or an hour glass tend to carry lower risk for heart disease, even when carrying extra fat.
BMI, which is typically calculated using your height and weight, is valuable, but it may not tell the entire story. It is possible to have a BMI within normal range and still be at high risk for heart disease. Why?
Because abdominal obesity, as measured by waist circumference, is important in determining risk for cardiovascular disease, according to a National Heart, Lung and Blood Institute report on BMI, waist circumference and associated disease risks.
Believe it or not, a person who has a BMI of 34 (9 units over ideal) and a normal waist circumference has a high risk for heart disease. A person with a BMI of 25 with a high waist circumference also has a high risk, even though they are much thinner overall.
To minimize an apple-like body shape and reduce the risk for heart disease, consider these simple steps to be successful when trying to lose weight:
Eat fewer carbs: Reducing your consumption of starchy foods will be the fastest way to start reducing abdominal fat. If you are a high-carb consumer, reduce carbs to less than 100/day. If you don't consume a large amount of carbs, consider a lower number like 50/day. Keep in mind that all fruits and vegetables are carbs – just try to eat more of the non-starchy ones.
Get moving: The recommended amount of exercise per week to be healthy is 150 minutes per week. This number is higher to prevent weight gain or weight regain, so get moving, no matter what type of exercise you enjoy.
Get enough sleep: Seven-eight hours of sleep is needed to keep your stress hormone (cortisol) at normal levels while also making sure you don't make too much hunger hormone (ghrelin).
Drink plenty of water: Most hunger we feel is thirst, so staying well hydrated will ensure you don't eat when you simply needed to quench your thirst.
Dr. Tony Hampton is an obesity expert at Advocate Trinity Hospital in Chicago and a member of the Obesity Medicine Association.
Want to learn more about your risk for heart disease? Take a free online quiz to learn more. 
Related Posts
Comments
About the Author
Dr. Tony Hampton, MBA, CPE is Board Certified in Obesity Medicine and Family Medicine. He currently is the physician lead for Advocate's Healthy Living Program as well as Regional Medical Director for the South Region of Advocate's Medical Group. He is an inspirational public speaker, blogger, coach, and has authored a book entitled Fix Your Diet, Fix Your Diabetes. He has led multiple programs and works with AdvocateAurora to coach patients on their journey to achieve their health care goals by balancing nutrition, exercise, stress reduction, increased sleep, and needed medical interventions. He believes that a shift is needed in healthcare where we all work together focus on prevention and wellness. He is married and a father of two college-aged boys.