This common virus is raising concerns among parents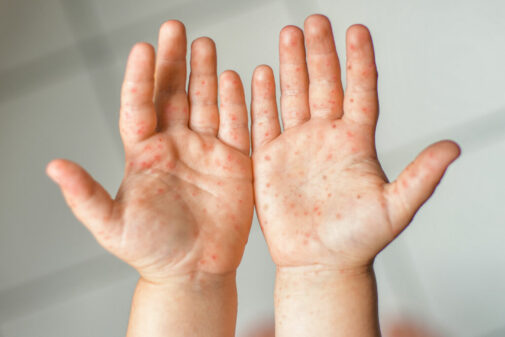 With the news of monkeypox spreading, parents might get especially nervous when they see a new rash or blisters on their toddler. The actual culprit is much more likely to be a very common virus.
"Hand, foot and mouth disease is something we commonly see during this time, from the summer into fall season, in children under 5," says Dr. Emma B. Olivera, a pediatrician with Advocate Children's Medical Group. "Kids can get blisters in or around the mouth that cause them a lot of pain and make them not want to eat or drink."
Most kids with hand, foot and mouth disease will also develop a rash of red spots that may be flat or slightly raised on the palms of their hands and soles of their feet. In some cases, it can also present around or near the buttocks.
Dr. Olivera says parents lately have voiced concerns about monkeypox knowing that it also starts as red spots and results in painful blisters. However, lesions from monkeypox develop over the course of two to four weeks and into firm, pus-filled blisters. With hand, foot, and mouth disease, the rash usually results in blisters in the mouth and extremities and resolves in seven to ten days.
Monkeypox also comes with enlarged lymph nodes, which is not typically a symptom of hand, foot and mouth disease. Monkeypox rarely presents in areas of the hands or feet and may be confined to only a few lesions or only a single lesion.
"Also, monkeypox exposures are happening primarily in adults," Dr. Olivera says. "We are not seeing monkeypox exposures in toddlers as we do with hand, foot and mouth disease."
If your child does come down with a case of hand, foot, and mouth disease, the best thing you can do is provide supportive care. Give them popsicles or a pain reliever to help soothe their throat, monitor their fever and make sure they stay hydrated.
"Make sure they don't share drinks with older siblings, but if you have two toddlers, it's pretty common that they'll both get it," Dr. Olivera says. "Like a cold, just try to do your best to make them comfortable and call your doctor with any concerns."
Are you trying to find a pediatrician? Look here if you live in Illinois. Look here if you live in Wisconsin. 
Related Posts
Comments
About the Author
Katie Dahlstrom, health enews contributor, is a public affairs coordinator with Advocate Aurora Health. A storyteller at her core, she is a former newspaper reporter and spent nearly five years working as a public relations professional for Chicago's commuter rail agency, Metra. Outside of work, she enjoys birding, photography and spending time with her husband and dog.