Should you eat more chickpeas?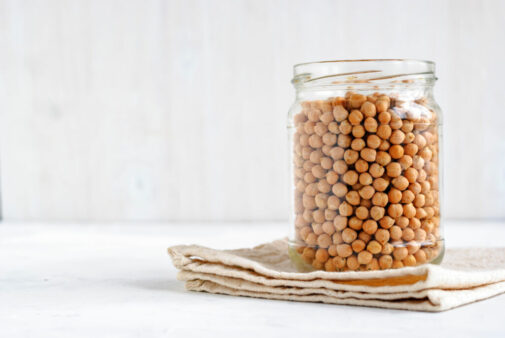 When you think of chickpeas you might think of hummus. But they're everywhere.
Chickpeas are becoming the trendy, high-protein version of comfort foods such as pasta, rice, chips and believe it or not, ice cream.
You can now purchase chickpea-based products from your grocery store, such as chickpea pasta, chickpea puffs, dessert hummus, chocolate covered chickpeas, chickpea ice cream and chickpea cookie dough.
Chickpeas are versatile, nutritionally dense, allergen-friendly and inexpensive. They have a buttery, nutty flavor and creamy texture, which makes them perfect for many recipes. Some health benefits of chickpeas are:
Help control blood sugar – Canned and dried chickpeas have a low glycemic index.
Help lower cholesterol – Soluble fiber in chickpeas can lessen your total cholesterol and LDL (bad) cholesterol.
Give you stronger bones – Chickpeas calcium, magnesium and fiber for strong bones.
Can boost your mental health – Chickpeas have choline in them, which is a nutrient that helps make important chemicals for memory, mood, muscle control and other brain and nervous system activity.
Ben Ramirez, a nurse practitioner and specialist in bariatrics at Aurora Bariatric & Weight Management Clinic in Milwaukee, Wis., says one cup of chickpeas contains 1/3 of an adult's daily protein needs. For people reducing the amount of meat in their diet, a good source of protein, such as chickpeas, will help with bone, muscle and skin health.
Also, one cup of chickpeas contains on average 12.5 grams of fiber. In weight management, fiber functions as a bulking agent and helps with the increase in satiety. This in turn helps to reduce appetite and lowers a person's caloric intake, thus helping with weight loss.
"One cup of chickpeas contains 4.7 mg of iron, or between a half and one-fifth of a person's daily requirement, depending on the individual. It also provides some vitamin C, which helps the body absorb iron," Ramirez says. "This iron absorption helps the body's ability to carry oxygen to the cell, helping with iron deficiency anemia."

Are you trying to watch your weight? Check out a free online quiz to learn more about your healthy weight range by clicking here.
Related Posts
Comments
About the Author
Amy Werdin, health enews contributor, is a provider public affairs coordinator with Advocate Aurora Health. She has been with the organization for 19 years, starting out in marketing for Advanced Healthcare, then Aurora Health Care and now in her current role. She enjoys reading, movies and watching her two daughters dance and her son swim.