Before you buy: What to know about over-the-counter hearing aids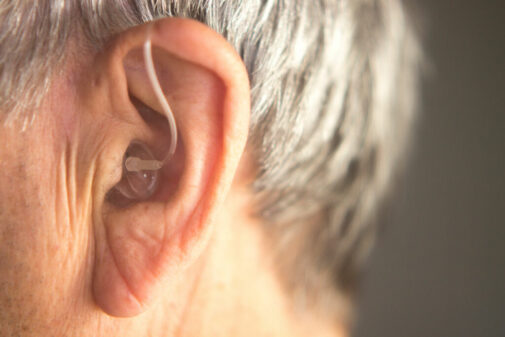 We've seen the advertising and heard the news stories: over-the-counter (OTC) hearing aids are now available at retail stores. The cost for the device can be thousands of dollars less than a doctor-prescribed pair.
For audiology professionals like Dr. Molly O'Hearn, audiologist at Aurora Medical Center – Mount Pleasant, the new option offers pros and cons.
"The upside to OTC hearing aids is that they present a more affordable and accessible option for people who need them," says Dr. O'Hearn. Even moderate hearing loss can diminish quality of life and create social isolation – a risk factor for depression, dementia and Alzheimer's."
"The downside is that they don't require a prescription by a medical doctor, so you miss out on the evaluation and personalized fitting," explains Dr. O'Hearn. "OTC hearing aids can be adjusted for amplification volume, but they're not customized for the individual. It's like buying a pair of "reader" glasses off the shelf for your vision loss. They will work for some situations, but you don't get a custom lens personalized for you."
Among adults aged 70 and older with hearing loss who could benefit from hearing aids, fewer than one in three has ever used them, according to the National Institute on Deafness and Other Communication Disorders. Three qualifying factors determine if you are a candidate for OTC hearing aids. You must be an adult over 18, and you must have the ability to self-adjust the aids as needed. Most important, your hearing loss must be mild to moderate. "If you have more severe hearing loss, they could wind up being a waste of money and a source of frustration."
A good first step before buying OTC hearing aids is to have a hearing test. "We highly recommend you have your hearing checked and evaluated prior to making the purchase," says Dr. O'Hearn. "You'll learn if you are a good candidate for the OTC aids or if you require a prescription hearing aid. The test will reveal problems with pitch and frequency, not just volume, and it will give you a baseline for your hearing that can be monitored over time."
Hearing evaluations take just 30 to 40 minutes, are easy to schedule and are often covered by medical insurance. A test also can point to underlying health issues that should be checked by a doctor, like infections or tumors. Anyone with sudden hearing loss, pain or discomfort in the ears, vertigo or severe dizziness should see a doctor immediately.
Insurance coverage for hearing aids can vary. Some plans cover the full cost and some plans cover nothing at all. That's where OTC hearing aids can help those with mild to moderate hearing loss. If you do opt to try them, Dr. O'Hearn recommends asking whether the device includes a trial period. Otherwise, you won't be able to return them if they don't work for you.
To learn more and schedule your appointment, visit Advocate Aurora Hearing Services.
Related Posts
Comments
About the Author
Annette Guye-Kordus is a public affairs coordinator with Advocate Aurora Health.