Sesame is now listed as a major food allergen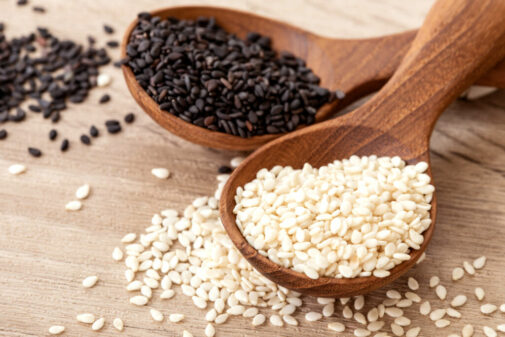 The Food and Drug Administration (FDA) is making it easier for people with sesame allergies to safely consume packaged food in the United States without fear of going into anaphylaxis.
Beginning in 2023, all food manufacturers must clearly list sesame as an ingredient on product labels. The requirement was signed into law in April 2021, thanks to the Food Allergy Safety, Treatment, Education and Research (FASTER) Act. Sesame joins eight other allergens already identified on food packages: milk, eggs, fish, shellfish, tree nuts, peanuts, wheat and soybeans.
Identifying which foods contain sesame is an important step in health care as an estimated 0.2% of children and adults in the United States are allergic. According to Dr. Lilian Gonzalez, allergist and immunologist at Aurora Health Care, sesame allergies are increasing, in part, because foods like sushi, hummus, and tahini sauce are more common in the western diet compared to decades ago.
An allergic reaction to sesame can look different depending on the person and include varying symptoms such as hives, welts, itching, coughing, difficulty breathing, vomiting or diarrhea. When a patient with a known food allergy begins having a reaction, they should follow the food allergy action plan given by their allergist.
"Mild or life-threatening symptoms can come on pretty quickly," warns Dr. Gonzalez. "When you're having a severe allergic reaction, the best thing to do is seek emergent care. Always call 911 if you have questions. If there's an EpiPen nearby, consider using it unless you have a known history of cardiac arrhythmia."
After using an EpiPen, Dr. Gonzalez recommends patients go to the emergency room for further observation and monitoring by medical professionals.
An allergist can diagnose a sesame allergy by using a skin or blood test. Specifically, doctors will test for the presence of an antibody produced by the immune system, called Immunoglobin E (IgE). This antibody is only present when there is a food allergy, not a food sensitivity.
Dr. Gonzalez advises patients to avoid using over-the-counter food panel tests, which can easily produce misleading results.
"A false diagnosis from an at-home test can be a big problem and lead to poor nutrition in the long run," says Dr. Gonzalez. "One thing about food allergies, including sesame, is they are reproducible and predictable."
Food allergies typically present in earlier childhood as the immune system is up and coming. According to Dr. Gonzalez, children are also more prone to food allergies if they have asthma or eczema. She says a child may need to eat the food two or three times for an allergic reaction to occur.
Sesame can be hidden in many everyday snacks and meals, like bagels, breads, cereals, chips, protein bars, processed meats and flavored noodle dishes. When dining in a restaurant, Dr. Gonzalez recommends asking plenty of questions about ingredients and food preparation to stay safe.
Are you trying to find a doctor? Look here if you live in Illinois. Look here if you live in Wisconsin.
Related Posts
Comments
About the Author
Danielle Stobb, health enews contributor, is a public affairs coordinator in Greater Milwaukee, Wis.