Critical care physician creates curly hair kits for patients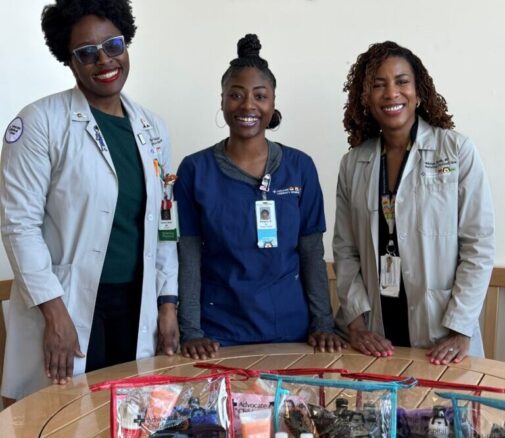 "Hair is part of a person's identity, and recognizing a patient's identity helps them heal faster," says Dr. Kay Jacobs, a critical care physician at Advocate Children's Hospital – Park Ridge.
As a Black physician, Dr. Jacobs knows firsthand about caring for curly and coiled hair. These hair types are especially prevalent in the Black community and are often characterized as hair that is extremely dry and fragile. To keep these two hair types healthy, extra steps and special products are frequently used.
Dr. Jacobs' saw this translate into her work after witnessing multiple children experience adverse hair events while in the intensive care unit. She soon realized the hair care options being offered to her patients were not inclusive.  
She recalls one particular patient whose experience stands out in her mind.
"She was immobile in her hospital bed, and her hair hadn't been protected. By the time she was able to move, the back of her head was bald," Dr. Jacobs remembers.
This motivated Dr. Jacobs to begin helping hospitalized patients care for their hair. Partnering with the supply chain team, she ordered specific hair products for curly-haired patients. She began packaging kits to offer patients, oftentimes even putting them together on her own kitchen table.
Now, Dr. Jacobs is on a mission to make curly hair kits available to all Advocate Health Care and Aurora Health Care patients.
"I want patients and families to know that we care about each of them as individuals," she says. "We're here to take care of all of you, not to just give you medicine. As clinicians, we understand that how you feel about yourself is important. That's usually the first thing a person apologizes for when a clinician comes into the room. Being hospitalized can take a person's confidence away. We know how important it is to feel like yourself."
Advocate Children's Hospital is now offering inclusive hair options for our patients. Curly hair kits are curated for any patient with curly and/or coily-textured hair. This much-needed offering is a simple way to help patients with textured hair know they are welcome and well cared for during their stay. The kit is complete with a hair bonnet, curl-safe shampoo and conditioner, a wide-tooth comb and a firm bristle brush.
Are you trying to find a doctor? Look here if you live in Illinois. Look here if you live in Wisconsin. 
Related Posts
Comments
About the Author
Holly Brenza, health enews contributor, is the public affairs coordinator at Advocate Children's Hospital. She is a graduate of the University of Illinois at Chicago. In her free time, Holly enjoys reading, watching the White Sox and Blackhawks, playing with her dog, Bear and running her cats' Instagram account, @strangefurthings.