Play pickleball? Don't fall victim to these common injuries.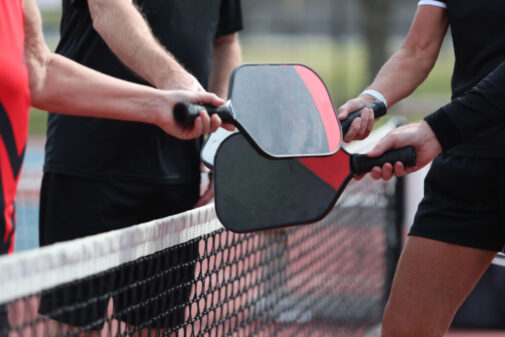 Pickleball has grown to become one of the most popular games amongst people of all ages and skill levels. Played with a plastic, perforated ball and a paddle, this game is often compared to badminton, Ping-Pong or tennis. Pickleball is played on a slightly modified court with a net where the goal is to hit the ball back and forth over the net and can be played as singles or doubles and outside or inside.
According to the USA Pickleball Association, of the pickleball players who play 8 or more times each year, over 52% of those players are 55 years old or older. With more people playing this growing sport, and with the popularity of this sport with those ages 55 and up, the number of injuries that have resulted from pickleball has also increased.
"With any sport or activity, if you have a lingering pain or injury, they can get worse over time or be aggravated when you start using or overusing those areas," says Dr. Alexandra Huml, internal medicine physician at Aurora Health Center in Sheboygan, Wis.
A 2019 study found there were 19,000 injuries in 2017 from pickleball, and 90% of these injuries affected people 50 and older. Common injuries from pickleball or similar activities are torn rotator cuffs, lower back issues such as disc or muscle injuries, tendonitis, and ankle or knee sprains.
Although pickleball is more of a low-impact activity in comparison to others, whether in organized leagues or pickup games with neighbors, you still need to use caution when playing to help prevent injuries.
"Pickleball can still be a great activity to get and stay active if you take the proper precautions," explains Dr. Huml. "Your primary care doctor can talk with you and help determine what exercise might be best for you and your body."
Dr. Huml offers these tips to help prevent injury while playing pickleball:
Wear proper, stable footwear and clothes you can move around in comfortably
Warm up your body and stretch prior to playing
Be aware of your surroundings and move any nearby obstacles if possible
Before playing, double check if the court is dry to prevent slips
Make sure to drink plenty of water
Listen to your body and know when to rest
Are you having back problems? Take a free online quiz here to learn more. 
Related Posts
Comments
About the Author
"Hannah Koerner is a Public Affairs Specialist with Advocate Aurora Health. She received her Bachelor of Arts in Communication from the University of Wisconsin – Green Bay. In her free time, she enjoys biking, snowshoeing, and cheering on Wisconsin sports teams."