5 ways to get children to take medicine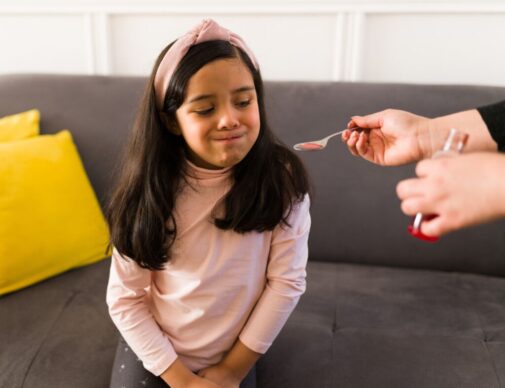 Getting your child to take medication can sometimes feel impossible. And when they're sick, you're likely already feeling stressed and overwhelmed. So what can you do to make things easier?
"The key is to have a good technique and to make the experience as positive as possible," says Dr. Yasmin Bhathena, a pediatrician with Aurora Children's Health.
This cold and flu season, Dr. Bhathena offers the following tips to help make administering medication to your child a smoother process.
Stay calm – and keep things positive: Children, including very young children, can pick up emotional cues from parents and caregivers. If you're feeling frustrated while trying to administer medication, odds are your child is noticing. Try your best to approach the situation as positively as possible. This will also help lay the groundwork for smooth experiences in the future.
Give your child some control: If the medication comes in different flavors, ask your child to choose which they'd like. Including them in the decision-making process can go a long way in helping them feel comfortable with the situation.
Use food if necessary: Most medication can be mixed with a small amount of food – pudding, ice cream, Cool Whip, etc. But only use a minimal amount of food (a teaspoon or less) so you can be sure your child takes all of the medication. Check with your child's doctor before mixing medication into food.
Reward your child: Use something motivating to your child. Would they enjoy placing a sticker on the calendar each day they take their medication? This can help many children feel rewarded and helps them visualize their progress.
Don't call it candy: While this may temporarily get your child to cooperate, calling medicine candy can seriously confuse them and lead to an overdose in the future. Never let your child think medicine is candy. If they are old enough to understand, explain to them that medicine can only be taken with a parent or caregiver.
"While it can be difficult to give children of any age medication from time to time, toddlers tend to be the most difficult, since reasoning and rewarding doesn't always work," Dr. Bhathena says. "But no matter your child's age, remember to stay calm and approach the situation with a plan. If you are still unable to get your child to take their medication, call their doctor to discuss next steps. Never forego a necessary medication administration – especially a dose of an antibiotic course – because your child is fighting you. We will help however we can."
Are you trying to find a doctor? Look here if you live in Illinois. Look here if you live in Wisconsin. 
Related Posts
Comments
About the Author
Holly Brenza, health enews contributor, is the public affairs coordinator at Advocate Children's Hospital. She is a graduate of the University of Illinois at Chicago. In her free time, Holly enjoys reading, watching the White Sox and Blackhawks, playing with her dog, Bear and running her cats' Instagram account, @strangefurthings.