Patient who battled breast cancer, heart failure shares message of gratitude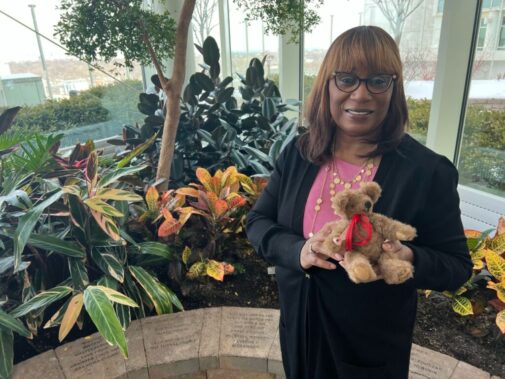 She gave her life-threatening diagnosis a one-two punch and won the fight. Susie Stallworth, a patient at Aurora St. Luke's Medical Center, battled breast cancer and heart failure simultaneously. Now, she's working closely with the cardio-oncology team to increase her stamina, while serving as an advocate for others.
According to Stallworth, doctors discovered the green pea-sized lump in her breast during a routine mammogram – a preventive screening she and her sisters vowed to get every year after losing their mother to breast cancer at a young age. While receiving chemotherapy for her breast cancer, Stallworth says she began experiencing shortness of breath.
"I first noticed not being able to take steps up and down my stairway at home. I was exhausted after little movement and I felt pressure in my chest," says Stallworth.
Her heart wasn't functioning properly. Luckily, Dr. Manmeet Singh, a cardiologist who specializes in transplant cardiology at Aurora St. Luke's, detected the heart issue early on.
"Unfortunately, chemotherapy medicines have the potential to be toxic to the heart," explains Dr. Singh. "When Susie came to us, we did an echocardiogram to evaluate her heart function and found her ejection fraction was at 45%."
Ejection fraction is the percentage of blood that gets squeezed out of the heart with every beat. According to Dr. Singh, a normal ejection fraction is 55% or higher.
"We started Susie on certain medications she could take by mouth. Fortunately, she responded well to those medications, and her heart function completely recovered and has remained stable. A valve that was once looking leaky, isn't looking leaky anymore," says Dr. Singh. "Our goal at cardio-oncology is primarily to prevent the cancer survivors of today from becoming the heart patients of tomorrow."
At 66 years old, Stallworth is cancer free and managing her heart health. She's also become an advocate for others.
"I've had mammograms since I was 18 years old. I always preach to my nieces and nephews to listen to our family history," says Stallworth. "Breast cancer isn't just a female thing. It can affect males as well."
In late February – Heart Month – Stallworth met with Dr. Singh in Aurora St. Luke's Healing Garden to share her message of gratitude. She carried a small teddy bear with her, named Susie bear. It was a gift from a former co-worker, reminding Stallworth to continue to bring awareness to cancer and heart health.
"All the doctors and nurses have been so wonderful at managing my care and helping with any questions I have. They've reassured me they have my best interests in mind. I am so grateful," says Stallworth.
Dr. Singh told Stallworth her case has given his team 'motivation to keep on going – and that's what we'll do'.
Want to learn more about your risk for heart disease? Take a free online quiz.
Related Posts
Comments
About the Author
Danielle Stobb, health enews contributor, is a public affairs coordinator in Greater Milwaukee, Wis.