Healthy, budget-friendly grocery shopping tips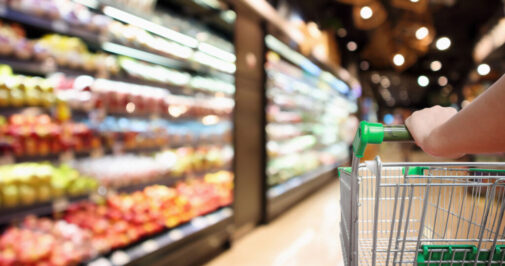 Navigating the grocery store for healthy food can already be a challenge for some. Now, inflation is adding to the stress by increasing the amount of money you spend each trip. In fact, there was an 11.4% increase in grocery store prices between 2021 and 2022.
While we can't control how much food costs at the grocery store, there are ways to save money by modifying some of our shopping habits.
Here are some of my tips on how to select foods that are cheaper and healthier:
Take inventory: Go through what you have at home before heading to the store. Use up what you have on hand to build healthy meals, supplementing with store-bought healthy foods such as vegetables and fruit. Once you've checked out your home supply, scan the grocery store ads and plan your meals and snacks around what's on sale for the week.
Make a list: Lists may seem like a lot of work, but they save time and money and limit impulse buys. For extra effectiveness, write the list according to your travel path in the store and stick to it. As much as 85% of purchasing decisions are made in the store aisle while looking at the product, so bring your list, and get in and out. Some people find that grocery shopping through store pickup and delivery also helps reduce impulse buying. Avoid shopping when you're hungry — extra items will sneak into your shopping cart and you'll be tempted to buy something to eat for the drive home.
Be a supermarket sleuth: Compare unit prices and choose the product with the lowest cost per unit. Be careful of sneaky supermarket traps such as products on the ends of aisles and easy-to-grab treats in the checkout lane. Also, look down. Stores place the most expensive items and brand names at eye level and less expensive items on the lowest shelves. Stick to what you really need and avoid buying something just because it's on sale. Limit treats such as chips, cookies, frozen desserts, and sugary beverages — these items drive up the grocery bill.
Sign up: Rewards and loyalty cards at various stores can save you hundreds of dollars a year. Register online and check out the store's digital coupons, which often are linked to the rewards card.
Stock up: The following foods are loaded with nutrients and either last a long time before spoiling or offer quantity for the money.
Fruit: apples, avocados, bananas, honeydew, oranges, papaya, pears and watermelon
Vegetables: bell peppers, broccoli, carrots, greens, onions, potatoes, sweet potatoes, spinach, tomatoes, winter squash and frozen vegetables
Grains/starches: brown rice, oats (in a large canister), quinoa and whole grain pasta
Protein: beans (dried or canned), lentils, canned tuna, ground turkey and peanut butter
Dairy: milk, plain yogurt (in a large container) and cottage cheese
These tips will save you money without sacrificing nutrition. If you need help with an individualized eating plan, consult with a registered dietitian.
Are you trying to watch your weight? Take a free online quiz to learn more about your healthy weight range here. 
Heather Klug is a registered dietitian with the Karen Yontz Women's Cardiac Awareness Center at Aurora St. Luke's Medical Center in Milwaukee, Wis. 
Related Posts
Comments
About the Author
Heather Klug, MEd RD is a registered dietitian and cardiac educator at the Karen Yontz Women's Cardiac Awareness Center inside Aurora St. Luke's Medical Center in Milwaukee, WI.