Should you be taking magnesium supplements?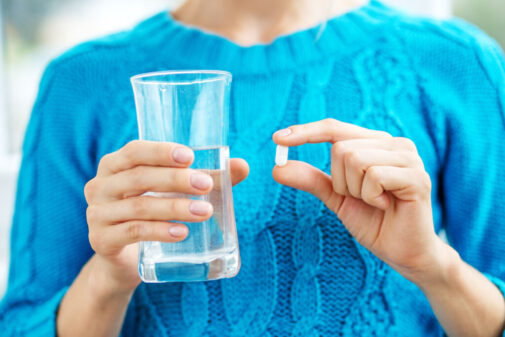 Magnesium supplements have grown in popularity over the past few years despite not being new to shelves. Proponents of the supplement point to magnesium's ability to help with energy levels, muscle tension, sleeping problems and more.
And while typical diets have foods that contain magnesium, research suggests half of the U.S. population may be magnesium deficient.
"Magnesium is an essential mineral our bodies need to help maintain strong bones, healthy blood pressure and blood sugar, muscle and nerve functions and more," explains Dr. Connor Harmann, a family medicine physician at Aurora Health Care in Sheboygan, Wis. "Men between 19-51 years of age should be consuming between 400-420 milligrams of magnesium each day, and women within that same age range should be getting about 310-320 milligrams."
Magnesium is found in foods like nuts and legumes, seeds, whole grains, dark leafy vegetables, fish, poultry and beef. But how do you know if you aren't getting enough through your diet?
Signs of deficiency can include:
Muscle weakness, cramps, twitches and tremors
Depression and apathy
Weak bones and bone fractures
Fatigue
Irregular heart beat
Magnesium deficiency can ultimately lead to serious health conditions including heart disease, high blood pressure, diabetes and osteoporosis.
"If you eat a healthy, well-rounded diet, there's a good chance you are getting the magnesium you need," says Dr. Harmann. "Even if you don't get enough one day or week, you probably are meeting your body's need the next. So it's likely you do not need to take magnesium supplements. If you are worried about your magnesium intake or are experiencing any of the symptoms of magnesium deficiency, talk to your doctor."
Are you trying to find a doctor? Look here if you live in Illinois. Look here if you live in Wisconsin.
Related Posts
Comments
About the Author
Holly Brenza, health enews contributor, is the public affairs coordinator at Advocate Children's Hospital. She is a graduate of the University of Illinois at Chicago. In her free time, Holly enjoys reading, watching the White Sox and Blackhawks, playing with her dog, Bear and running her cats' Instagram account, @strangefurthings.