Is it harder for kids to ward off future COVID infections?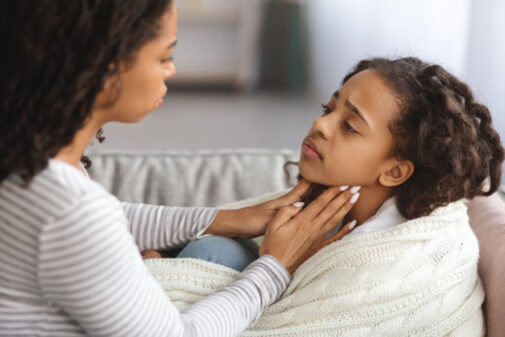 When an otherwise healthy child gets COVID, they are typically able to fight it off without complications. But a new study suggests the immune systems of children may not remember the virus and are consequently unprepared to ward off future COVID infections.
The researchers analyzed white blood cell samples of children and adults in the same household after they healed from mild or asymptomatic cases of COVID. Study authors say kids' immune systems produced a strong initial response to the virus, but that didn't help protect them against the next time they were exposed to the virus. They point to the fact that the adaptive part of the immune system, which recognizes viruses and generates targeted responses to them, continues to develop as kids grow and are exposed to viruses. When children are young, the innate part of the immune system is largely responsible for fighting off viruses. The innate immune system is comprised of physical protective barriers including skin and mucous.
Researchers reported the children's immune systems fought against COVID through upper airway immune response including mucous, but studying their blood cell samples suggested that their immune systems did not learn how to target COVID specifically. The adults participating in the study had the opposite response.
Dr. Kevin Dahlman, pediatrician and medical director of Aurora Children's Health, says significantly more research needs to be done to draw any real conclusions.
"While this study represents important analysis in the very complex immunology of COVID immunization versus natural infection, this is an extremely preliminary study. It's also important to note that the study only included seven children and five adults. This is very weak evidence, but it's a start," he says.
Luckily, the United Sates is seeing an extremely low incidence of COVID infections in school-aged children and very mild symptoms with the current variant, according to Dr. Dahlman.
"I encourage parents to have a discussion with their child's primary care clinician to determine the appropriate time for administration of the COVID vaccine series and booster. I try to time my patients' vaccine administration to cover them for travel and before upcoming surgeries, as even vaccine immunity wanes fairly quickly," says Dr. Dahlman.
Are you trying to find a pediatrician? Look here if you live in Illinois. Look here if you live in Wisconsin. 
Related Posts
Comments
About the Author
Holly Brenza, health enews contributor, is the public affairs coordinator at Advocate Children's Hospital. She is a graduate of the University of Illinois at Chicago. In her free time, Holly enjoys reading, watching the White Sox and Blackhawks, playing with her dog, Bear and running her cats' Instagram account, @strangefurthings.