When should you take your child to a dermatologist?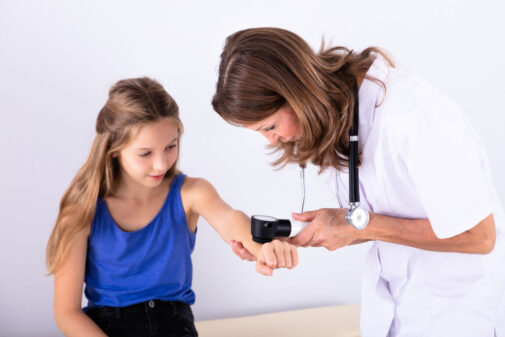 Is there a right time or a certain age at which you should bring your child to see a dermatologist? Dr. Cynthia Abban, a dermatologist with Aurora Medical Group, weighs in.
"Parents most often bring their child or adolescent in for acne, rashes like diaper rash, eczema, ringworm, dandruff, warts, molluscum and moles. Mild eczema responds well to a solid moisturizing routine, as skin that is not well moisturized can lead to extremely itchy, dry and cracked skin, further worsening eczema. Warts and mollscum are viral lesions or bumps that are self-limited but can spread and cause pain. Generally speaking, when you have a concern about your child's skin or when at-home treatments for rashes aren't working and begin to affect their self-esteem and daily life, it's time to seek medical care from a dermatologist."
Another common concern among parents: moles.
"Moles are usually nothing to worry about," says Dr. Abban. "Moles on children are normal if they grow at the same rate as the child. They may become darker or lighter. But if a mole appears different than any others a child has and is growing quickly (sometimes referred to as the "ugly duckling mole") a dermatologist should evaluate it. Other things to watch for – a raised mole with different colors within it, jagged edges or bleeding. Children with large moles or more than 50 moles on their body should have them evaluated by a dermatologist."
Dr. Abban advises parents to care for their child's skin by regularly moisturizing, applying SPF and keeping an eye out for any concerns – as well as supporting adolescents with their skin care routines as they grow. She offers the following tips:
Always keep your child's skin moisturized. I recommend short, lukewarm baths no longer than 10 minutes. Immediately after bathing, leave a little moisture on the skin to feel damp. Then follow with a gentle, fragrance-free moisturizing cream or emollient for sensitive skin.
Before heading outdoors on a sunny, cloudy or even winter day, ensure proper application of sunscreen. If not applied properly, sunscreen is not effective. Broad-spectrum sunscreen with UVB and UVA protection and SPF 30+ with water resistance should be applied at least 15 minutes before sun exposure or swimming. Rub sunscreen on all exposed areas of the skin, and reapply every two hours.
Advise your children to be careful when it comes to sun exposure and to seek shade whenever possible to avoid sun burns.
"Caring for our skin is an important part of our overall health," says Dr. Abban. "Teaching your child the importance of caring for their skin when they are young will help them build a lifetime of good habits."
Are you trying to find a dermatologist? Look here if you live in Illinois. Look here if you live in Wisconsin. 
Related Posts
Comments
About the Author
Holly Brenza, health enews contributor, is the public affairs coordinator at Advocate Children's Hospital. She is a graduate of the University of Illinois at Chicago. In her free time, Holly enjoys reading, watching the White Sox and Blackhawks, playing with her dog, Bear and running her cats' Instagram account, @strangefurthings.