Can chemo break your heart?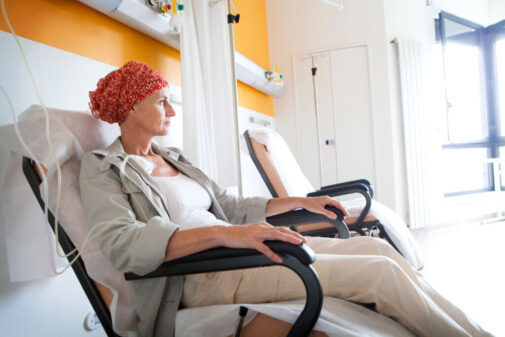 Blindsided by a breast cancer diagnosis after a lump was discovered during her routine physical, 35-year-old Debbie Saurmann had a lot to think about.
At such a young age, the long-term impacts of the cancer therapies that were being used to save her life weighed heavily. For example, her chemotherapy regimen, known as HER-2 targeted therapy, can cause heart damage known as cardiotoxicity.
"I didn't want to find out one day that chemotherapy broke my heart," Saurmann says.
Other cancer treatments can increase the risk of congestive heart failure or coronary artery disease, the build-up of plaque on the walls of the arteries that supply blood to the heart. Radiation can also speed up the progression of coronary artery disease, making symptoms harder to recognize and increasing the likelihood of a heart attack.
"We don't want to cure one thing [cancer] and damage another," explains Dr. Marianna Krive, a cardio-oncologist at Advocate Lutheran General Hospital, who helps Saurmann monitor her heart health. "Some cancer treatments can lead to heart failure – during treatment, after remission or even many years later. That's why, regardless of symptoms, it's important to screen current patients and survivors so that we can protect their hearts for the long term."
To minimize the risk of heart damage, there are steps that cancer patients and survivors can take.
First, be vigilant about signs of heart trouble – unusual shortness of breath, using extra pillows for easier breathing at night, abnormal swelling in the legs, or a dry cough that lasts a few weeks and isn't related to allergies or a cold.
"Don't blow it off," Krive urges. "If something isn't right, let your doctor know right away."
Second, some people should consider regular screening like echocardiograms or 'echos' during and after their cancer treatment.
Third, work to strengthen your heart muscle through regular cardiovascular exercise. Krive suggests at least twenty minutes of brisk walking, running, or time spent on the elliptical, treadmill or bike. The protective benefits of exercise are most important the day before or the morning of a chemotherapy infusion.
Finally, some people may benefit from cardio-protective therapy, prescription medications taken during and after treatment.
"For a majority of patients, the risk is extremely low, but we're trying to be protective and proactive," Krive explains. "Your heart shouldn't be a limiting factor to enjoying post-treatment life."
Today, Saurmann is in remission. Her heart is strong. She joined a rowing team made up of other breast cancer survivors.
"There's an unspoken connection when you're out there on the water," Saurmann says. "Even if it's tough for you, you need to keep pushing for the rest of the women in your boat."
It's also why Saurmann wants to share her story, so that other women facing a breast cancer diagnosis won't end up with a broken heart.
Want to learn more about your risk for breast cancer? Take a free online quiz here.
Related Posts
Comments
About the Author
Kristen Johnson, health enews contributor, is a public affairs and marketing manager with Advocate Health Care and Aurora Health Care. She previously worked as a speechwriter and staffer on Capitol Hill. She enjoys running marathons, good coffee and exploring Chicago's many neighborhoods.