Invasive Group A Strep on the rise across the country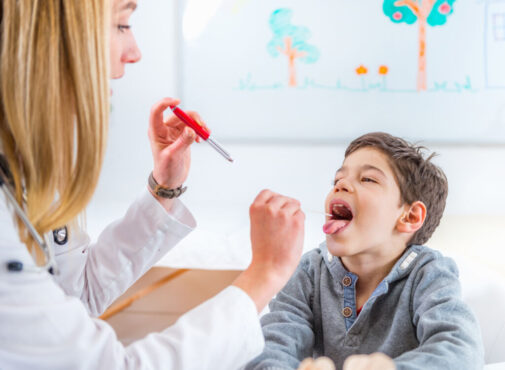 The Centers for Disease Control and Prevention (CDC) is warning people about an increase in invasive group A streptococcus (iGAS) cases in the United States. In Illinois, there have been five pediatric deaths from invasive group A strep, and parents across the country are on heightened alert.
The symptoms of strep throat include:
Sore throat with no cough
Fever
Swollen tonsils and lymph nodes
Headaches
Feeling tired
Body aches
Unlike traditional strep throat, however, the term "invasive" means this form of strep does not necessarily stay in the throat but can spread to other areas of the body, leading to skin and soft tissue infections.
This bacteria is spread through nose and throat secretions from someone with strep, or through infected skin wounds caused by it. The risk of infection is highest in infants under the age of one year.
Scarlet fever is one of the infections commonly associated with group A strep. Dr. Emma Olivera, a pediatrician at Advocate Children's Hospital, says that while it may seem like an illness of the past, scarlet fever is actually very common – especially in school-aged children and young children in daycare.
"Just like in its name, kids with scarlet fever will get very high fevers. Sometimes they will get a 'strawberry tongue' where the tongue becomes inflamed in addition to a sandpaper-like rash on the torso, mild abdominal pain and afterwards may have peeling of the skin," says Dr. Olivera.
In addition to antibiotics, there are some at-home remedies that can help your child's symptoms. If your child does not want to drink liquids, Dr. Olivera recommends trying popsicles. Not only do they provide some hydration, but they also can help soothe a sore throat. If they have a rash that becomes increasingly bothersome or itchy, she recommends using calamine lotion or regular lotion to help calm the skin.
"But keep in mind that because this is a bacterial infection, these remedies are mainly going to just be supportive in combination with the antibiotics," says Dr. Olivera. She recommends making an appointment with your child's pediatrician as soon as they start exhibiting any of the above signs or symptoms.
Untreated or worsening infection may require IV antibiotics and hospitalization, so early diagnosis and treatment is key. Dr. Olivera recommends following the CDC guidance on prevention:
Continue to encourage good hand hygiene especially after coughing, sneezing or eating
If you don't have a tissue, cough or sneeze into your upper sleeve or elbow, not your hands
Disinfect high touch areas, or common areas of the home, if someone is sick with a respiratory illness
Disinfect or throw out toothbrush after treatment of recent strep infection to avoid recurrence
Encourage all family members to remain up to date with vaccines for influenza, varicella and COVID-19
Consider masking and social distancing when ill to avoid spreading germs
If your child has been diagnosed with invasive group A strep and is exhibiting severe or worsening symptoms, go to the nearest urgent care or emergency department. Click here if you live in Illinois or click here if you live in Wisconsin to find an urgent care near you.
Related Posts
Comments
About the Author
Lee Batsakis, health enews contributor, is a public affairs coordinator with Advocate Children's Hospital. She graduated from Western Michigan University with a degree in public relations and has worked in health care since 2013. Outside of work, she enjoys reading, exercising, and spending time with her fiancé and two dogs.