Emergency nurse manager goes the extra mile for patient care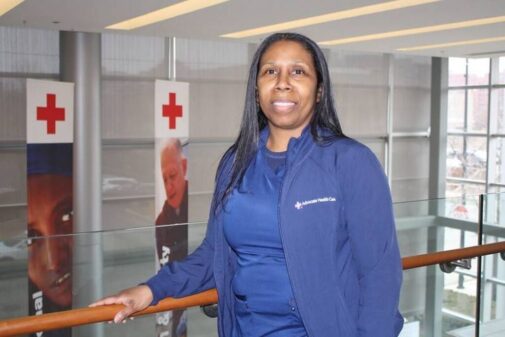 For many nurses, a grateful smile or passing words of appreciation from their patients are the only rewards needed for the acts of kindness and compassionate bedside care they deliver each and every day.
"It's health care. We do what we have to do," says Nicole Jackson, registered nurse and an emergency department clinical operations manager at Advocate Trinity Hospital in Chicago. "We step up when needed for the best outcomes for the patient."
So when the American Red Cross of Greater Chicago included Jackson in its 2023 Class of Local Heroes, to say the honor caught her by surprise would be an understatement. In May, Jackson will be recognized for going the extra mile to expedite the transport of one critically wounded Advocate Trinity patient needing a higher level of care at Advocate Christ Medical Center in Oak Lawn, Ill.
"You feel like you're doing what you're supposed to do. Then for someone to recognize you for your efforts. It's very humbling, to say the least," says Jackson.
Earlier this year, Advocate Trinity's already busy emergency department received three patients with gunshot wounds – two of them with critical injuries requiring a higher level of care. At the time, the hospital's emergency room was short-staffed and needed every available teammate to continue caring for patients. So, when a basic level of care ambulance arrived to transport the less critical patient, Jackson – who was headed home after completing a double shift right before the injured patients arrived – decided to accompany the hemodynamically unstable patient herself to ensure their fast and safe transport.
Sending a hospital nurse to ride along with a transferring patient isn't the norm, but when a patient needs to leave right way, the emergency medicine team makes that happen by any means necessary, Jackson explains.
The wait for a critical care ambulance equipped with a trained emergency nurse would have been over an hour. So, Jackson stocked the ambulance with additional blood, fluids and pain medication, then climbed into the back of the ambulance next to the bleeding patient for the transport.
"I was there to make sure he stayed stable….make sure his blood pressure didn't drop and I talked to him so I could assess his level of alertness," Jackson says. "The ride was OK. I was seat belted and my thoughts were on how it would work if I needed to come out of the seat belt to deliver care."
Although there were some bumps along the way, Jackson says the patient didn't complain much about the ride. The Advocate Christ emergency department team was waiting when Jackson arrived, and the patient hand-off went smoothly.
"I feel I was just doing my part and ensuring we give the best care to patients. It feels good to know we do the best for every one of our patients," Jackson says, adding that she accompanied a different critically injured patient to a higher level of care in the last week. And, in the past, Advocate Trinity physicians have also helped transport critically ill patients to avoid taking nurses away from their work in the ED.
For the past 20 years, the American Red Cross of Greater Chicago has honored individuals and groups for acts of immense bravery, dedication and service to the community. Jackson, along with 11 other Northern Illinois heroes, will be honored during a May 11 recognition breakfast in Chicago.
Are you trying to find a doctor? Look here if you live in Illinois. Look here if you live in Wisconsin.
Related Posts
Comments
About the Author
Cassie Richardson, health enews contributor, is regional coordinator on the Public Affairs team for Advocate Health Care and Aurora Health Care. She has more than 10 years of experience in health care communications, marketing, media and public relations. Cassie is a fan of musical theater and movies. When she's not spreading the word about health and wellness advancements, she enjoys writing fiction.