Zero sugar soda – a healthy alternative?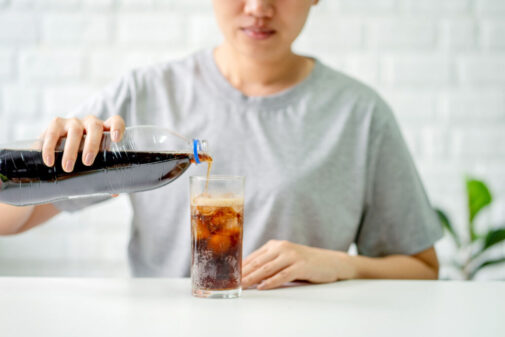 It's well known that regular soda is frowned upon by health care professionals. Empty calories, a lot of sugar – yes, you get it. Soda = bad. But many people still enjoy cracking open their favorite kind of soda, especially with so many options available. This is because times have shifted; we are more health-conscious as a society, and the label "zero-sugar" is on most major soda brands. Promising zero calories and zero sugar compared to their original counterparts, but with improved taste. But the question becomes: is zero-sugar soda healthy?
Similar to diet sodas, zero-sugar sodas use a sugar alternative. Many of the major soda manufacturers use aspartame in their products. Interestingly, aspartame contains just as many calories as sugar. However, it is considered a zero-calorie compound because it's 180 times sweeter. Aspartame was approved by the FDA in 1981, the earliest of all artificial sweeteners, and is one of the most scrutinized compounds by the FDA, going all the way back to the 1960s.
The good news is that there is no compelling evidence to demonstrate that aspartame causes acute or chronic health issues in humans. Some observational studies have tied the consumption of zero-sugar soda with health issues but that does not demonstrate causality.
"In my opinion, fructose from soda is much more harmful," says Amy Stinson, registered dietitian and supervisor of nutrition and diabetes education at Aurora Health Care in Grafton, Wis. "Fructose clearly shows a direct response to blood sugars and is detrimental to health in other ways as well."
So, while diet soda seems to be a safe alternative to regular soda, is there anything else you can drink to satisfy your soda cravings?
"If you are concerned about artificial sweeteners or just don't like the taste, then adding natural flavors like fresh fruit juice to sparkling water can be a good substitute," concludes Stinson. "Obviously just plain water is the best beverage, but sometimes we just need a bit of flavor."
Take our healthy weight assessment to learn whether you're within an ideal range and how the number may be affecting your current and future health. Or, if you are trying to find a doctor, look here if you live in Illinois or here if you live in Wisconsin. 
Related Posts
Comments
About the Author
Colin graduated from Marquette University with a degree in communications and has more than 10 years of experience in small marketing firms to Fortune 500 companies. Colin is married to his wonderful wife, Brooke, and they have two children. Outside of work, Colin enjoys golf, going to the gym, watching movies (he is a Star Wars nerd), tinkering with his home theater and spending time with family and friends.