Do mammograms hurt? They don't have to.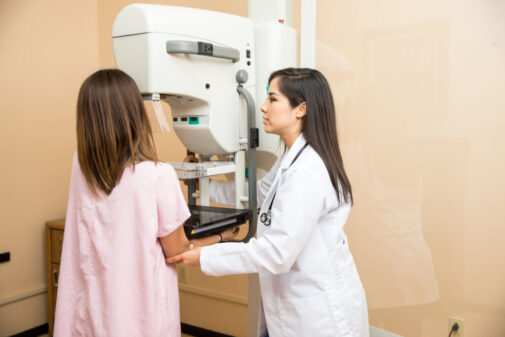 If you've been putting off getting your mammogram because the breast compression might be uncomfortable, fear not. With a little bit of preparation, you can minimize the pain you experience during your next mammogram.
Mammograms are one of the most important tests for detecting breast cancer. The screenings can help experts spot breast cancer early when it's typically most treatable.
Women should discuss their risk for breast cancer with their clinician starting at 30 years old and discuss mammography screenings starting at 40 years old. Having a family history of breast cancer or a genetic mutation known to increase cancer risk, such as the BRCA gene, can impact when your clinician recommends mammogram screenings.
For many women, the fear of mammograms being uncomfortable and painful keeps them from getting this important screening.
"The compression, or 'squishing,' of the breast helps us get a more accurate image so we can get a clear view and lower the chance you'll need additional imaging due to blurry images," says Dr. Gale England, a breast surgeon at Advocate Good Samaritan Hospital in Downers Grove, Ill.
As you prepare for a mammogram, here are some tips to help minimize pain:
Avoid scheduling your mammogram around times when your breasts may be tender, such as the week leading up to your period
Limit your salt and caffeine intake, which can make your breasts more tender
Practice calming techniques, such as taking deep breaths or visualizing a peaceful environment
Request gradual compression, which may be easier to tolerate than all-at-once compression
Take an over-the-counter pain reliever up to 60 minutes before your mammogram
"Remember, the compression lasts only a few minutes. Be sure to let your technologist know if you're in pain. They might be able to adjust the compression," says Dr. England.
Want to learn more about your risk for breast cancer? Take a free online quiz here. 
Related Posts
Comments
About the Author
Vicki Martinka Petersen, health enews contributor, is a digital copywriter on the content team at Advocate Health Care and Aurora Health Care. A former newspaper reporter, she's worked in health care communications for the last decade. In her spare time, Vicki enjoys tackling her to be read pile, trying new recipes, meditating, and planning fun activities to do in the Chicago area with her husband and son.