How to determine if you have appendicitis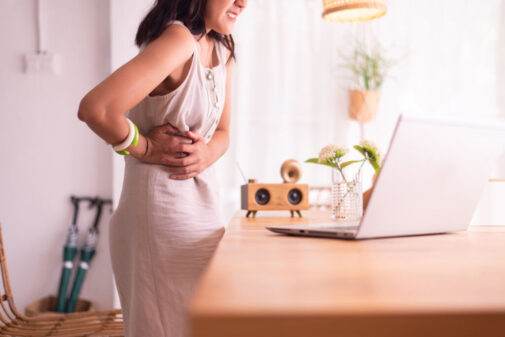 What should you do when abdominal pain strikes? While it may be caused by constipation or the stomach flu, there's a chance it could be something more serious.
One culprit of abdominal pain is appendicitis.
"Appendicitis is inflammation of the appendix, which is a small organ connected to your large intestine located in the lower right part of the abdomen," says Dr. Faizan Shakeel, an emergency medicine physician at Advocate Sherman Hospital in Elgin, Ill. "The inflammation is commonly caused by a small ball of stool that gets caught in the appendix but can also be caused by an infection."
Symptoms of appendicitis include:
Abdomen pain which begins near your belly button and moves to the lower right
Nausea
Vomiting
Fever
"While it's most common for teenagers and people in their 20s and 30s to get appendicitis, it can happen to anyone," notes Dr. Shakeel. "It can be hard to determine if you have appendicitis, so I always recommend getting an evaluation as soon as possible if you are exhibiting symptoms."
During an exam, the physician will press on your abdomen to see if there is tenderness or tightness. If so, you will go for a CT scan of the abdomen and pelvis, allowing the physician to identify any inflammation of the appendix.
"The most common treatment for appendicitis is an appendectomy, which is the removal of the appendix," explains Dr. Shakeel. "Appendectomy is typically done laparoscopically. This means the surgeon will make a few small incisions and use special instruments to remove the appendix."
Recovery from a minimally invasive appendectomy is relatively quick. Patients in good health typically go home on the day of their procedure and may be instructed to avoid heavy lifting or straining for a couple of weeks.
If you're concerned about getting your appendix removed, know that you won't miss out on much.
"The appendix is a vestigial organ, which means it's not something we need to function," shares Dr. Shakeel. "People who have their appendix removed don't experience any negative effects."
The most important thing to remember is to call your doctor immediately if you have symptoms of appendicitis.
"If appendicitis goes on for a prolonged period of time without getting treated, the inflammation will increase and the appendix can rupture," concludes Dr. Shakeel. "It's always best to see a doctor sooner rather than later. You don't want to put it off and risk a complication like a burst appendix."
Are you trying to find a doctor? Look here if you live in Illinois. Look here if you live in Wisconsin.
Related Posts
Comments
About the Author
Elizabeth Blasko is a public affairs coordinator with Advocate Health Care and Aurora Health Care. She studied public relations and nonprofit leadership at Western Michigan University. Elizabeth previously worked at Bernie's Book Bank, a nonprofit dedicated to increasing book ownership among underserved children.