How four-legged friends can help stroke survivors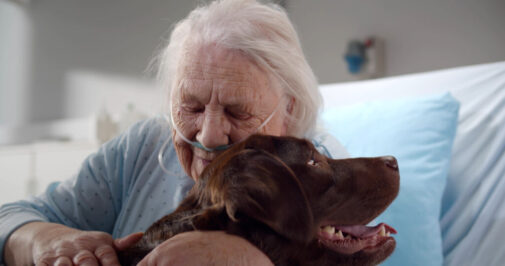 Dogs are a man's best friend – but for recovering stroke survivors, they can also serve a greater purpose.
With a specific focus on dogs, a recent study highlights the effects of animal-assisted therapy after a stroke. Results from this study showed there were significant improvements in gait performance, respiratory function, rehabilitation motivation and mental health when dogs were incorporated into post-stroke recovery.
"The companionship offered through animal-assisted therapy can make a big difference in some recovering stroke patients," says Dr. Demetrius Lopes, neurosurgeon and co-director of the Comprehensive Stroke Program at Advocate Health Care. "The two main areas that animals can assist in are post-stroke depression and aphasia."
Dr. Lopes says that depression is commonly seen after a traumatic experience such as a stroke.
"With the help of animals in the recovery process, post-stoke patients can feel more comfortable and motivated, decreasing their anxiety and depression," explains Dr. Lopes.
In fact, the study shows that 20-60% of post-stroke patients will struggle with depression, often making the rehabilitation process harder and longer in duration.
Aphasia is also common after a stroke, a disorder that can make it hard to communicate, write and understand language.
"Though patients with aphasia may find it difficult to speak and express emotion, they are still able to interact with animals," Dr. Lopes says.
While animal-assisted therapy can benefit many stages within the recovery process, it is also important to know that there are different types of animal assistance that require varying levels of training, Dr. Lopes says. Whether a patient would benefit more from animal-assisted therapy or an emotional support animal, for example, depends on their condition and how the stroke affected them.
Above all else, animals provide companionship, which can be especially rewarding for stroke survivors, Dr. Lopes says.
"The key takeaway from any animal assistance is that animals provide unconditional love. They are going to be there for you no matter what," he says.
Do you know your risk for stroke? Take a free online quiz here to find out.  
Related Posts
Comments
About the Author