Are skin conditions more than skin deep?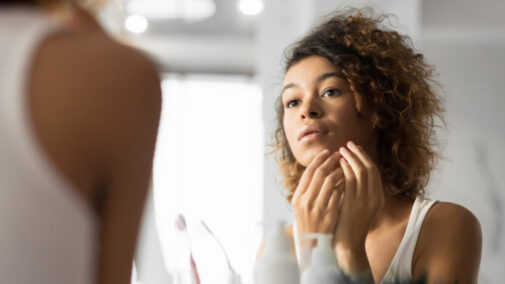 Have you ever looked in the mirror to find an army of pimples making their debut on your skin? If a discovery like this destroys your confidence, you're not alone. Surface-level skin issues can be more than skin deep.
According to a study in the Journal of Dermatology and Skin Science, skin conditions including acne, psoriasis and eczema negatively impact dermatological patients' self-esteem.
Dr. Gabriel J. Martinez Diaz, a dermatologist with Advocate Health Care, confirms the relationship he sees between skin conditions and self-esteem in patients.
"Inflammatory skin conditions, most commonly acne, psoriasis and eczema, are visible to patients and to everyone who sees them," Dr. Martinez Diaz shares. "This visibility of these conditions can trigger stress in patients and impact their self-esteem."
Stress and anxiety can also be exacerbating factors for skin conditions. Dr. Martinez Diaz explains that during periods of high stress and uncertainty, inflammatory skin conditions are more difficult to control.
While it's important to manage stress levels for skin health, it's not the ultimate solution.
"A lot of patients think if they control their stress their skin condition will go away," Dr. Martinez Diaz says. "The condition can improve, but unfortunately, a lot of skin conditions are chronic which means they are lifelong."
To address skin conditions, dermatologists provide a variety of treatment options and work with patients to choose what will work best for them. However, even with positive results from treatment, sometimes patients' health challenges are more than skin deep.
"A patient may come to see me for a skin issue, but I see beyond the skin problem. I see how depressed they look or how anxious they seem," Dr. Martinez Diaz shares. "The dermatology specialty trains us to treat skin disorders and understand their impact on mental health, but we are not specialized in mental health. We're not skilled or capable of addressing deeper-rooted issues that may arise from their skin conditions."
For patients facing mental health challenges, it's important to seek out a mental health professional in addition to a dermatologist to tackle both issues in a collaborative manner.
When it comes to the treatment of physical skin conditions, Dr. Martinez Diaz emphasizes the importance of communicating simple and straightforward information to patients.
"Patients come in and are overwhelmed with options. There is a large amount of confusion and overload of information with social media," Dr. Martinez Diaz explains. "Social media has heightened the number of self-esteem issues I see with skin conditions. Everyone is looking at perfection, they're looking at things that are not realistic."
If you believe you have a skin condition, the first step is to see a dermatologist as soon as possible. Seek a provider you can have a strong, collaborative relationship with and keep an open mind when considering treatment options and how results might look different from what you see on social media.
"At the end of the day, it's about the patient," Dr. Martinez Diaz concludes. "It's about giving them options that fit their needs so they can achieve real results and feel confident in their own skin."
Are you trying to find a doctor? Look here if you live in Illinois. Look here if you live in Wisconsin.
Related Posts
Comments
About the Author
Elizabeth Blasko is a public affairs coordinator with Advocate Health Care and Aurora Health Care. She studied public relations and nonprofit leadership at Western Michigan University. Elizabeth previously worked at Bernie's Book Bank, a nonprofit dedicated to increasing book ownership among underserved children.