Three surprising "female" conditions that can affect men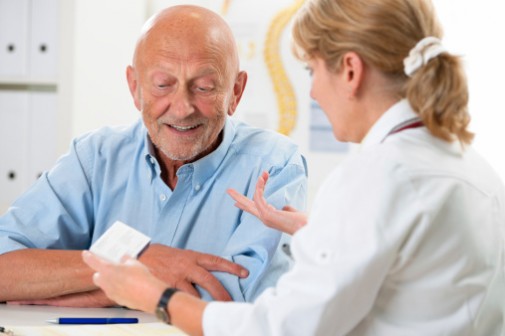 "Men's health" isn't just about building abs or training for your first triathlon. Experts say that tens of thousands of men each year are affected by conditions typically considered to be exclusive to women. Here are three such conditions that affect a surprisingly large number of men each year:
Male Breast Cancer
While this is still a fairly rare form of cancer, accounting for less than 1 percent of breast carcinomas, the incidences of it have increased significantly the last 26 years. According to the National Cancer Institute, it's estimated that there will be 2,240 new cases of male breast cancer and 410 deaths from the disease in the United States this year.
"Male breast cancer is about 100 times less common than in women," says Dr. Michael Cochran, an oncologist with Advocate Condell Medical Center in Libertyville, Ill. "But it still occurs and we do see it. Men need to do periodic self-exams, and any unexplained lump should be evaluated. The majority of lumps in men are benign. Often a condition called gynecomastia—an enlargement of male breast tissue—can occur as a side effect to taking certain medications."
Dr. Cochran also explains that the course of diagnosis and treatment for male breast cancer, as well as the stage-for-stage survival rates, are the same as with female breast cancer. "The approach to male breast cancer is the same—a mammogram and biopsy, and then similar courses of treatment if it is cancer. But we stress that the majority of male breast enlargements aren't cancerous, but do need to be evaluated."
Osteoporosis
Osteoporosis is still viewed by many as a condition that is for women only, but according to the Centers for Disease Control and Prevention (CDC), 2 percent of men age 50 and older suffer from osteoporosis of the hip. One in five men over the age of 50 will suffer an osteoporotic fracture during their lifetime, and men who sustain fractures have an increased mortality risk.
While women still suffer from osteoporosis in larger numbers, men need to be aware that as they age (and are living longer), they are at greater risk. Men in their fifties won't experience the same rapid rate of bone loss that women do after menopause, but by age 70, men and women suffer bone mass loss at the same rate.
Unhealthy habits such as excessive drinking, smoking and lack of exercise all increase your risk of osteoporosis as you age. Regular exercise, making sure you're getting enough calcium and vitamin D and talking to your doctor about medications you're taking that might increase your risk of osteoporosis are all helpful steps in preventing it as you age.
Eating Disorders
According to the National Association of Anorexia Nervosa and Associated Disorders, an estimated 10-15percent of people with anorexia or bulimia are male, and men are less likely to seek treatment for eating disorders because of the perception that they are "woman's diseases." That translates into roughly one million men suffering from an eating disorder in this country.
However, according to a study published online for the Journal of Treatment and Prevention, male weight and body image concerns differ from those of women in one key way: men generally don't strive for thinness and are prone to have as much desire to gain weight as they are to lose it.
The National Eating Disorders Association offers these helpful tips in preventing eating disorders in men:
Recognize that eating disorders don't discriminate by gender
Be aware of sports that may foster weight restriction (e.g., gymnastics, track, swimming, wrestling, rowing). These can put males at risk for developing eating disorders. Male wrestlers, for example, present with a higher rate of eating disorders than the general male population.
Never emphasize body size or shape as an indication of a young man's worth or identity as a man
Address the ways in which cultural attitudes regarding ideal male body shape, masculinity, and sexuality are shaped by the media
Related Posts
Comments
About the Author
health enews staff is a group of experienced writers from our Advocate Health Care and Aurora Health Care sites, which also includes freelance or intern writers.