5 tips to eat healthy on family road trips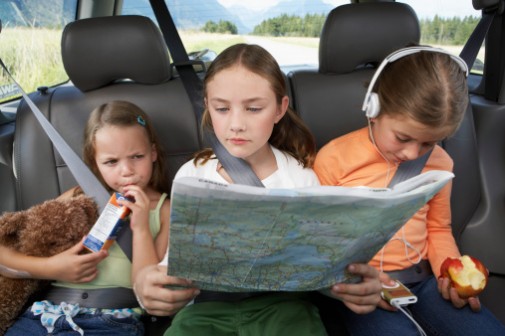 If you're one of the millions of Americans planning a road trip this summer, one of the last things you might be thinking about is healthy eating along the way.
According to the U.S. Travel Association, leisurely travelers use cars 76 percent of the time when traveling for fun, and that means a lot fast food stops.
Jaclyn Sprague, registered dietitian and nutritionist at Advocate Illinois Masonic Medical Center, says with all that time in the car, unhealthy eating choices are more likely to occur.
"On road trips or shopping excursions, in order to avoid the unhealthy stops and snacking, plan your meals ahead of time," Sprague says. "Pack water, fresh fruit, vegetables and sandwiches."
She says this will not only help you save on calories, sodium and fat, but it can also help you prevent skipping meals if you are unable to take time to stop.
Sprague recommends researching restaurants prior to hitting the road; this will help you find one that offers healthier choices, i.e. low-fat menus.
If you choose to eat out, Sprague offers the following tips while checking out the menus:
As a beverage choice, choose water or fat-free milk, unsweetened tea or other drinks without added sugar.
Ask for salad dressing to be served on the side.
Choose mustard instead of mayo on a sandwich.
Be aware of portion sizes. Knowing the correct serving sizes of items will help you make good decisions when eating out. Choose a "small" or smallest version of the sandwich or side that is available.
If available, choose a fruit or vegetable as a side over chips.
"Keep your meals moderate in fat and calories by choosing lean meats and limiting oil, mayo, cheese or dressing on a sandwich," Sprague says.
Read more: Eating well: Portion control is key, experts say.
She also adds that you should watch out for the temptation of the "deal."
"You may be offered to add a cookie or other dessert to your meal for an addition low fee," she says. "But ultimately this "special" could add as much or as little as 400 calories and 20 grams of fat to your meal."
Sprague says most importantly making smart choices and planning ahead are key to a successful and healthy road trip.
Related Posts
Comments
About the Author
Sarah Scroggins, health enews contributor, is the director of social media at Advocate Aurora Health. She has a BA and MA in Communications. When not on social media, she loves reading a good book (or audiobook), watching the latest Netflix series and teaching a college night class.