Caffeine consumption may warrant a diagnosis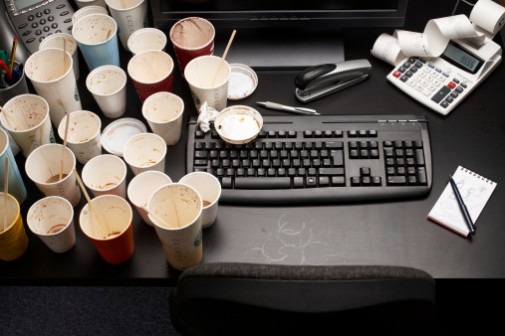 Believe it or not the American Psychiatric Association has now added caffeine intoxication, use, and withdrawal to its Diagnostic and Statistical Manual of Mental Disorders (DSM-5).
With 80 percent of U.S. adults consuming caffeine every day, according to the Food and Drug Administration, experts believe caffeine overload may be considered a mental disorder when it affects a person's ability to function in normal life.
The DSM-5 defines caffeine intoxication as someone who exhibits five of the 12 following symptoms: anxiety, rosy face, apprehension, inability to sleep, muscle spasms, abnormal heartbeat and incoherent flow of thought and speech. According to the report, these symptoms can occur when caffeine levels are above 250 mg.
Caffeine use disorder happens when a person suffers disabling effects and is unable to discontinue caffeine consumption. A withdrawal diagnosis is when a person goes without caffeine for 12 hours and experiences three out of five of the following symptoms including: headache, tiredness, depression, irritability, difficulty focusing and flulike symptoms such as queasiness or pain in your muscles.
"It is a "clinically meaningful" diagnosis that could be useful to psychiatrists and other health care workers seeing someone experiencing such symptoms," said Alan Budney, a member of the DSM-5 Substance-Related Disorders Work Group, in an online statement. "Symptoms must cause "clinically significant distress or impairment" that affects your functioning at work, home or in a social setting."
Laura Juliano, a psychology professor at American University who advised the DSM-5 work group, said in a statement, "We hear many times people go to the doctor for chronic headaches or because they thought that they had the flu and it turns out it was caffeine withdrawal and they didn't even know it."
Related Posts
Comments
About the Author
Sarah Scroggins, health enews contributor, is the director of social media at Advocate Health Care and Aurora Health Care. She has a BA and MA in Communications. When not on social media, she loves reading a good book (or audiobook), watching the latest Netflix series and teaching a college night class.