From torn ACL to full scholarship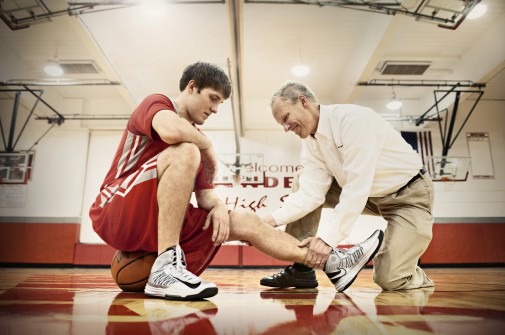 Robert Knar knew something was wrong. While playing in a basketball tournament in Florida last July, the 18-year old Mundelein High School student hopped into the lane, collided knees with another player and hit the ground.
"I felt my kneecap slide and pop back into place," said Knar. "The trainer came onto the floor, tested it and thought it was a dislocated knee cap."
But when Knar returned home two days later, he couldn't bend his knee past 90 degrees. He went to see Dr. Mark Neault, an orthopedic surgeon with Advocate Condell Medical Center, Libertyville, Ill., who diagnosed what Knar feared—a torn anterior cruciate ligament (ACL) along with a lateral meniscus tear.
"I thought that was it," said Knar. "I thought that was the last game I would ever play."
"The ACL is a key ligament that helps to stabilize the knee joint," says Dr. Neault. "Typically when you see these injuries, it's because an athlete pivots, plants and quickly changes direction—the kind of movement you might see in football or soccer."
In fact, football and girls' soccer have the highest rates of ACL injuries among high school athletes.
A torn ACL used to be a "career-ender" among athletes, but advances in surgical procedures and the emphasis on immediate physical therapy have helped athletes like Knar recover and then some.
"There are a few surgical options to repair an ACL," explains Dr. Neault. "For Robert, I did a soft tissue graft, in which I took two tendons from his hamstring to replace the ACL. The surgery was successful, but I always say that with ACL grafts, a patient's full recovery is 50 percent surgical and 50 percent physical therapy after the procedure."
Scott Beckman, PT, MS, physical therapist at Advocate Condell, worked with Knar after the surgery.
"People who have had ACL surgery need to start physical therapy within three days of the surgery," he says. "The reason for this is that you want to make sure that fluid doesn't build up in the knee and scar tissue won't form improperly. With Robert, we started with soft tissue massage to prevent fluid build-up, and simple range-of-motion exercises. From there, we progressed to strengthening exercises—primarily hip, hamstring and muscles in the lower calf. These are all muscles that support proper ACL function."
In addition, Beckman had Knar working out in the pool to help him get used to being back on his feet, but without full weight on his knee. Altogether, Knar's course of therapy lasted five months, which is better than the six to nine months that is a typical recovery time for an ACL graft procedure.
"In order for rehab to be successful for any patient, you need a phenomenal surgeon, a motivated patient, a supportive family structure and a dedicated therapist," says Beckman, who created a specialized plan for Robert after his sessions at the hospital ended, and even visited Robert at his basketball practices to check up on him. "Patients with the best outcomes have all of these factors in place—and Robert certainly did."
Knar's prognosis for his reconstructed ACL is positive.
Dr. Neault is quick to add, "Because ACL surgery corrects slight anatomical issues, I'm more likely to see an athlete injure their 'healthy' ACL rather than the reconstructed ACL. With good physical therapy that corrects and strengthens your legs, you become stronger on the reconstructed side."
Today, Knar couldn't be happier with the outcome, as he prepares to go to University of Northern Iowa on a full basketball scholarship.
"I worked very hard, but had an incredible team working with me, including my family," he says, modestly. "I'm really looking forward to a solid career at UNI."
---
Meet Robert's surgeon, Dr. Mark Neault, during a live web chat on Sports Injury Prevention on Friday, July 19. Visit www.advocatehealth.com/live.
Related Posts
Comments
About the Author
health enews staff is a group of experienced writers from our Advocate Health Care and Aurora Health Care sites, which also includes freelance or intern writers.