Porch partiers take extra caution, experts warn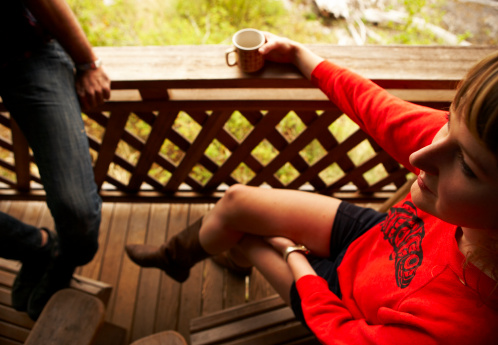 In late June of 2003, just past midnight, in one of Chicago's most vibrant, chic communities, young 20-something partygoers crowded together on the second and third floors of an apartment porch at 713 W. Wrightwood Ave.
Without warning, the third-floor balcony gave way, crashing down to the crowded second-story balcony, which in turn collapsed to the ground floor. In all, 13 people lost their lives and more than 50 sustained various injuries. It was the worst porch collapse in the country's history, grabbing national attention, including being used as the basis for storylines on two popular television shows: "ER" and "Chicago Fire."
In the years since, Dr. Richard Fantus, trauma surgeon at Advocate Illinois Masonic Medical Center in Chicago, says he's people are still being injured while trying to enjoy a little outdoor time on their porches, though nothing to the extent he saw in the emergency department on that night 10 years ago.
"We have people who fall all the time," Dr. Fantus says. "They lean against a railing that gives way or they sit on the edge of the rail and tip too far backward."
As Chicagoans enjoy warm summer evenings, Dr. Fantus warns everyone to be very conscious of your safety while hanging out on a porch. He suggests five simple tips to help you stay safe while you grill, chat or just soak up the sun on your balcony:
Check your deck — If you have a deck or balcony, be certain that it's been inspected and meets all safety codes. If you live in Chicago and suspect your porch may be unsafe, the city has a team of conservation experts who are trained in porch inspections. They may be reached by calling non-emergency 311 or through the City of Chicago's website.
Maintain your frame — Whether the porch is yours or a landlord's, make certain necessary maintenance is done, including inspections for rot and mildew, cracked or broken boards, loose railings or steps and broken or cracked support beams.
Avoid a crowd — Always know how many people or how much weight for which your porch or deck is rated. If yours is an older deck, be especially careful of railings that may give way if too much force is applied.
Give it a test — Before you lean on a railing, test the strength. Don't blindly apply all your weight to a railing that may not hold.
Don't be a daredevil — Never sit or, even worse, stand on railings. A momentary lapse in attention can shift your balance, sending you over the other side.
If you are witness to or involved in a porch collapse or accident and are not injured yourself, Dr. Fantus says to first get out of danger and call 911.
"Leave everything where it is," he says. "You don't want to move a beam or board and cause more to come tumbling down. Wait for the professionals."
As for the day-to-day porch safety, Dr. Fantus says, common sense is always key.
"There's nothing on the other side of the railing except danger  or harm," he says. "Always be aware of where you're leaning, sitting or standing."
Related Posts
Comments
About the Author
health enews staff is a group of experienced writers from our Advocate Health Care and Aurora Health Care sites, which also includes freelance or intern writers.