Recovering from an ACL injury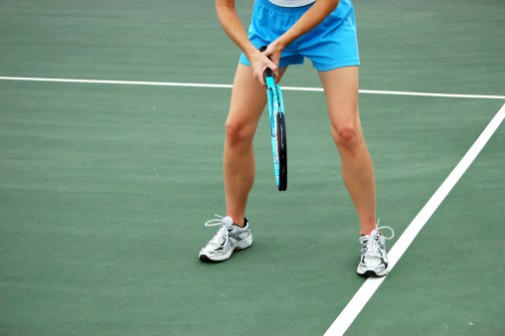 "I was serving 30-Love, and my opponent pounded my serve with a cross court forward," says Lisa O'Neil, director of public affairs and marketing for Advocate Good Shepherd Hospital in Barrington, Ill. "In an effort not to get beat, I sprinted to the ball, stopped myself at the net and heard a pop. Needless to say, I lost the point, but I lost a lot more for the next nine months. After I heard the pop, I knew it could be bad," she says.
O'Neil feared an anterior cruciate ligament or in laymen's terms: an ACL tear. Unfortunately the MRI confirmed that the following day. So began a long nine months of rehab, surgery, pain killers, more rehab and finally back on the court.
Her injury is one of the most common sports-related injuries, according to the American Academy of Orthopaedic Surgeons (AAOS). The ACL is one of the four major ligaments in the knee. The main reason athletes experience an ACL tear is because they change direction suddenly causing the knee to give out. The AAOS reports that approximately 200,000 ACL injuries occur annually in the United States, leading to nearly 100,000 ACL reconstruction surgeries.
Several studies have shown that female athletes have a higher incidence of ACL injuries than male athletes, especially among those who participate in start-and-stop sports like tennis. Physicians suggest this is due to differences in physical conditioning, muscular strength and neuromuscular control. Other possible causes could be pelvis and lower leg extremity alignment and the effects of estrogen on loosening ligaments.
Dr. Mark Gross, an orthopedic surgeon at Good Shepherd Hospital, sees injuries like this quite often.
"While some ACL injuries are quickly discovered because of the loud "pop" the ACL can make other times people will notice a lot of pain, and swelling around the knee," Dr. Gross says.
"Although an ACL injury may seem inevitable for many athletes, the risk of ACL injury can be reduced through plyometric training drills that require balance, power and agility. There are also programs designed specifically for female athletes as well," he says.
Rehab can be quite lengthy after an injury like this, but most patients do recover enough to get back to the playing field.
Related Posts
Comments
About the Author
health enews staff is a group of experienced writers from our Advocate Health Care and Aurora Health Care sites, which also includes freelance or intern writers.