Short, high impact workouts do the body good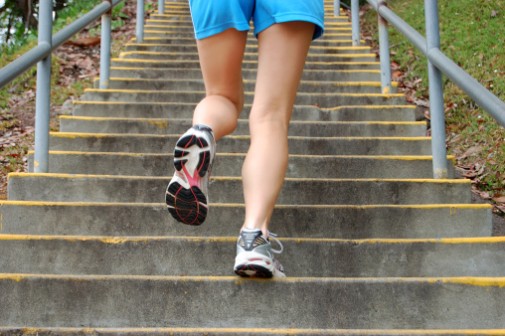 With busy schedules—filled with work, errands and socializing with friends—it can be a challenge to find the time for even a 30-minute workout. But we all know that regular physical activity is vital to maintain a healthy weight, prevent disease and relieve stress. However, according to a new study, even a few minutes of high-intensity exercise can make a difference.
The new study, published in the American Journal of Health Promotion, finds that the intensity of a workout may play a more important role than duration when it comes to preventing weight gain. According to the study, brief sessions of vigorous physical activity—less than 10 minutes—are just as effective as longer workouts for controlling weight.
"In my day-to-day practice, I see the benefits of even short sessions of physical activity," says Dr. Lynn Mershon, a physical medicine and rehabilitation physician on staff at Advocate Sherman Hospital. "I recommend that my patients make an effort to be active throughout the day, even if it's as simple as taking a short walk around their house every hour. Every minute of exercise truly has a positive impact on your health."
Researchers observed more than 2,200 women and 2,300 men, between the ages of 18-64, and found that each daily minute of higher-intensity exercise had an impact on reducing obesity risk. In fact, for every minute spent working out at a higher intensity, women cut their obesity risk by 5 percent and men by 2 percent.
These findings are encouraging for Americans since many of us do not obtain the necessary amount of exercise each week, Dr. Mershon says.
According to the Centers for Disease Control and Prevention, adults need at least 150 minutes of moderate-intensity exercise or 75 minutes of vigorous-intensity exercise each week.
"Even with short bouts of exercise, you are still putting in those necessary minutes of aerobic activity," says Dr. Blaine Washington, physical medicine and rehabilitation physician on staff at Sherman Hospital.
"I can see how people would be more likely to adhere to an exercise program if they spread the activity over a period of time rather than 30 minutes, five days a week," he says. "Americans as a whole live a very sedentary lifestyle. Therefore, I think that short workouts make obtaining the recommended 150 minutes more achievable."
Dr. Mershon hopes that this study will inspire more Americans to incorporate even short exercise activities into their daily routine.
Related Posts
Comments
About the Author
health enews staff is a group of experienced writers from our Advocate Health Care and Aurora Health Care sites, which also includes freelance or intern writers.