Marriage as cancer therapy?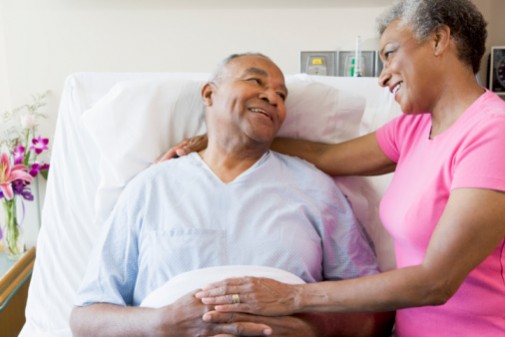 A recent study, published in the Journal of Clinical Oncology, has found that people who are married and diagnosed with cancer have a greater chance of detecting their disease earlier, getting better treatment and even living longer.
Researchers looked at more than 700,000 cancer patients in the U.S., finding that there was a 20 percent decrease in deaths among those who are married versus those that are not.
Authors believe being married actually may have better benefits than some medical treatments.  
"It is pretty astonishing," said study lead author, Dr. Paul Nguyen, in a statement. "There's something about the social support that you get within a marriage that leads to better survival."
Although they don't believe marriage directly fosters better survival rates in cancer patients, they do believe there is a strong link. Researchers looked at how marital status relates to cancer outcomes.
"This study shows how a close partner, such as a spouse can be beneficial not only to cancer survival, but also to earlier diagnosis, and compliance with treatment," says Dr. Heidi Memmel, breast surgeon with Advocate Medical Group in Park Ridge, Ill.  
Study authors also believe that when a person is married, their partner becomes invested in their health, helping them to keep it a top priority, along with their annual screenings.
"You're going to nag your wife to go get her mammograms. You're going to nag your husband to go get his colonoscopy," Nguyen said. "If you're on your own, nobody's going to nag you."
An interesting finding of the study showed that those who did not have a partner were 17 percent more likely to have their cancer spread from its original state. These patients were also 53 percent less motivated to get the proper therapy and treatment.
"When I meet somebody by themselves sometimes they can be really overwhelmed by the information," Nguyen said. "All the facts that you need to make your decisions, you don't even hear those facts when you're the person. You really need somebody else that's listening and making those kinds of judgments for you."
Nguyen also says that spouses help the patient get things in order, encourages treatment, and helping them with everything at the end of the day.
Researchers do not want a person to feel like being married is a must when going through cancer, but they believe having a partner or friend through this tough time can be very beneficial.
"This study gives cancer treatment providers a look at how improving standard cancer treatment by providing support interventions for those without spouses, family or close friends can be extremely beneficial for the patient," Dr. Memmel says. "We should also be screening for depression and other psychological concerns in the newly diagnosed cancer patient, and promoting psychosocial support when needed."
Related Posts
Comments
About the Author
Sarah Scroggins, health enews contributor, is the director of social media at Advocate Aurora Health. She has a BA and MA in Communications. When not on social media, she loves reading a good book (or audiobook), watching the latest Netflix series and teaching a college night class.