Big benefits for bilingual baby boomers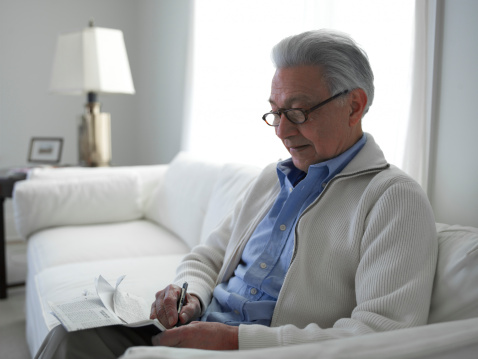 As the baby boomer generation ages and concern about Alzheimer's disease grows, researchers are looking for ways to help baby boomers (and future generations) live longer, healthier lives. 
In recent years, researchers across the world have begun looking at the relationship between bilingualism and the onset of Alzheimer's symptoms. 
Bilingualism has many advantages, but is it possible that being bilingual has health benefits as well? 
Absolutely, says Dr. Tom Schweizer, a neuroscientist who recently published the results of his study measuring brain atrophy and cognitive ability in people with probable Alzheimer's disease.
Dr. Schweizer's team studied a group of volunteers who had a diagnosis of probable Alzheimer's disease. The patients had similar levels of education and cognitive skills, including memory, attention and organization. What was different about them? Half of the participants spoke only one language, while the other half were fluent in two languages.
Schweizer's study evaluated patients in two ways: by testing them on their cognitive performance (for example, using memory tests) and by giving each participant CT scans of the brain during the tests. All participants performed equally well on the cognitive tests, but those who were bilingual had more significant brain atrophy (shrinking) in the areas of the brain most affected by Alzheimer's disease.
What does that mean?
Dr. Schweizer says the results of the study show evidence of physical proof that being bilingual can delay the onset of Alzheimer's symptoms. It shows that people who are bilingual may continue to function at a higher level despite their loss of gray matter.
It may also mean that people who are bilingual may be better able to compensate for neurologic changes and deficiencies, allowing them to function well even after their brains are being negatively affected by Alzheimer's.
Other studies have produced similar results. For example, according to a report on National Public Radio (NPR), another neuroscientist, Brian Gold from the University of Kentucky College of Medicine, found bilingual seniors were better at attention switching tasks than the monolingual peers.
Gold also used scanners to see what was happening inside the brain during the tasks. What he found is that the bilingual participants didn't have to work as hard to accomplish the same tasks, leading the researchers to believe that bilingual brains have learned to be more efficient at processing information.  
So, should we all go out and learn a second language?
That's the big question that doctors still don't have definitive answers to. Although there's plenty of evidence that shows being bilingual can delay the onset of Alzheimer's symptoms, experts still aren't sure whether the benefits are as great if you learn a second language as an adult rather than learning two simultaneously as a child.
However, according to Dr. Victor Munoz, family medicine physician on staff at Advocate Illinois Masonic Medical Center in Chicago, it definitely can't hurt to learn a second language at any age.
"Keeping your brain active and engaged is good for many reasons, so whether you play games like Soduko or you learn to speak another language, you're likely helping keep your brain healthy and young," he says.
Related Posts
Comments
About the Author
health enews staff is a group of experienced writers from our Advocate Health Care and Aurora Health Care sites, which also includes freelance or intern writers.