Gunshots leading cause of death among kids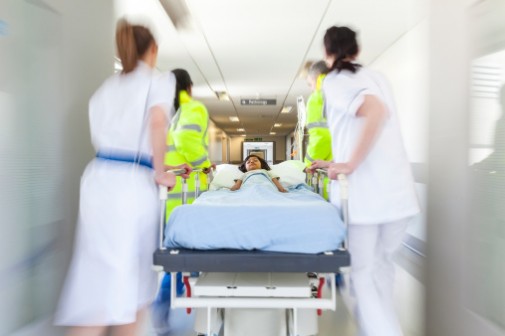 The thought of a child being a gunshot victim is horrifying enough, but the statistics on gunshot injuries to children are just as chilling. According to a new study, these injuries are the leading cause of death and injury in U.S. children and teens.
Research from the study published October online in the journal of Pediatrics reveals that although childhood gunshot injuries are not common, they are more severe, require more major surgery, have higher mortality rates and greater per-patient costs than any other causes of childhood injury—especially among young males.
Dr. James Doherty, director of trauma surgery and critical care services for Advocate Christ Medical Center in Oak Lawn, Ill., can relate. However, he sees these injuries far more often. "We see a lot of urban violence, and gun violence is high in our service area," he says. A large number of those injured are in the 14 to 19 age group, which he says is the second most common age group for gunshot wounds, after 20- to 24-year-olds.
"I would say from a trauma standpoint, the cases of penetrating trauma are some of our most seriously injured. They require multiple operations and longer hospital stays so they cause significant resource consumption to take care of these patients," he says.
Compounding the problem, Dr. Doherty adds, is that any kind of central nervous system injury requires additional therapies from social services, physical therapy and rehab services.
To conduct the study, a research team examined data from nearly 50,000 injured children aged 19 and younger who received a 9-1-1 response from 47 different emergency medical services (EMS) agencies. Five western regions in the U.S. were included, along with 93 hospitals where EMS patients were transported over a three-year period.
Compared with children who had injuries from causes, such as stabbing, being struck by a motor vehicle, falls, hit by blunt objects and others, children injured by gunshot had the highest proportion of the following:
Serious injuries (23 percent)
Major surgery (32 percent)
In-hospital deaths (8 percent)
Per-patient costs ($28K annually)
Dr. Doherty says there are no easy solutions to stem the tide. "I think the problem is too simplistic to think it's about getting guns off the street or putting more people in jail," he says. "The problem stems from the fact that young people choose to resolve conflict with guns instead of normal conflict resolution."
But that's only part of the problem.
"This is also a generation of kids who aren't really getting proper mentoring from adults to teach them how to resolve conflicts and how to address issues that occur in their lives," he says. "Then add access to a gun and you have a very serious problem."
Related Posts
Comments
About the Author
health enews staff is a group of experienced writers from our Advocate Health Care and Aurora Health Care sites, which also includes freelance or intern writers.