5 tips to help parents handle bad grades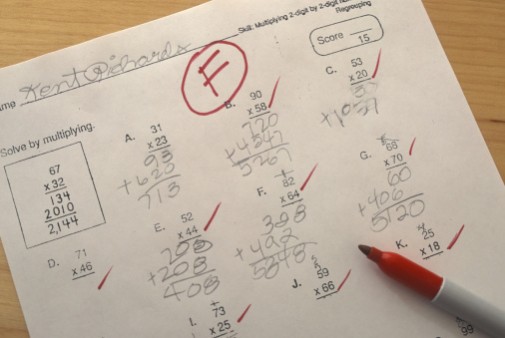 Disappointing a parent is the last thing a child wants to do so bringing home a bad grade can be devastating. It can be made far less painful, however, by how you, as a parent, respond.
"I think either the extreme of flying off the handle or not reacting at all is an unhelpful response," says Dr. Bobbi Viegas-Miller, clinical psychologist with Advocate Medical Group in Park Ridge, Ill. "A middle of the road approach works best. Being responsive, without overreacting."
Here are five tips from Dr. Viegas-Miller on how parents can best respond when their child receives a bad grade:
1. Remain calm.
"Yelling, screaming, and lecturing don't help," says Dr. Viegas-Miller.
Getting into a shouting match with your child and overreacting may only create a reluctance to talk with you about this or things in the future. If you feel like the discussion will escalate into an argument, the best approach may be to take a break and walk away until you cool down. Overreacting can also affect your child's self-esteem. Let your child know that although you don't like the grade, you still love him or her very much.
Dr. Viegas-Miller warns that parents can go too far in the other direction as well, such as offering excessive rewards when a student makes good grades. A parent may, for example, offer payment of $50 for each "A" received.
"External rewards such as money can interfere with your child developing intrinsic motivation for learning," she says. "You can encourage intrinsic motivations by helping your child to value learning for its own sake. For example, you can help the child find what he or she enjoys and have a passion to learn more about it and explore."
2. Find out why this may have happened.
"It helps to sit down and talk with your child to get an understanding of what's going on and determine possible causes for the grade," Dr. Viegas-Miller says.
Is there something going on at school you need to know about? Is time management an issue? "It could be as simple as needing a tutor or it may possibly be anxiety or depression getting in the way. Talking with them better helps you come up with a plan," she says.
3. Discuss this with the teacher.
It's possible there may be larger issues at play that you are unaware of. Set up a time to talk with the teacher to discuss what areas your child needs help in and what some possible solutions might be.
"Develop a partnership with your child's teacher," Dr. Viegas-Miller says. "Teachers are the experts since they see what goes on in the classroom. By working collaboratively with your child's teacher, it is more likely that you will be able to find a solution to your child's poor grades."
4.  Offer help, not necessarily punishment.
Grounding a child by not letting him or her participate in school sports or other extra-curricular activities doesn't necessarily convey the idea of being responsible. Your child may be a C student, which is average and still acceptable. Find ways that will help your child feel successful instead of penalized.
This may come in the form of tutoring help or peer study groups." Schools have after-school homework clubs and signing up for a club can be motivation to get the work done," Dr. Viegas-Miller says. "Parents must also check in and make sure their work is done before they're able to participate in reward activities such as watching TV, playing video games or spending time with friends."
5.  Plan for future success.
Dr. Viegas-Miller recommends creating a plan for learning and homework at the start of the year. This means having a designated place and time for learning and ensuring that children are rested and well fed before diving into their schoolwork.
Having a consistent routine along with organizational skills can be very beneficial she says. "Using a calendar and organizer to help set the framework for doing homework and learning helps."
Engaging with them regularly can be helpful too. "It's important to talk to them about what they're interested in learning and how this applies to real life. For example, you can help them understand how math applies to balancing a checkbook or research skills can apply to buying a new car," Dr. Viegas-Miller says.
Related Posts
Comments
About the Author
health enews staff is a group of experienced writers from our Advocate Health Care and Aurora Health Care sites, which also includes freelance or intern writers.