Cardiac procedure gives kids from El Salvador a new lease on life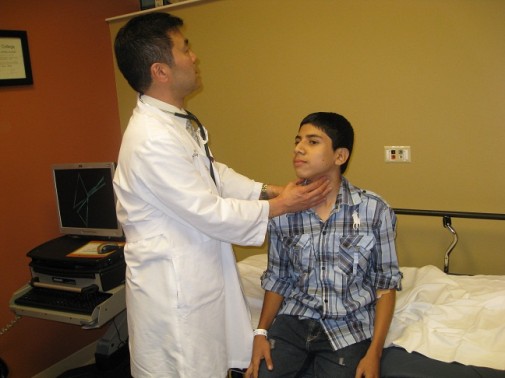 It's hard to imagine being a kid and not being able to ride a bike, play soccer or run around with your friends.  But that was the case for three teens from El Salvador who were diagnosed with heart arrhythmias.
The trio traveled to Advocate Good Shepherd Hospital in Barrington, Ill. last year to be treated for their condition.  They came to Good Shepherd in partnership with the non-profit organization Healing the Children, a charity devoted to matching children in need from countries lacking available medical treatment, with physicians and hospitals in the U.S. with the capabilities to help, and the willingness to donate their services.
An arrhythmia is a heart rhythm disturbance or a change in the regular beat of the heart. The heart may seem to skip a beat or beat irregularly or very fast or very slowly.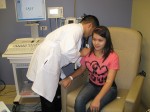 Raymond Kawasaki, MD, a cardiac electrophysiologist at Good Shepherd, performed the operation that cured 14-year-old Jose, 16-year-old Jasmine and 14-year-old Cecilia."We did a procedure called an electrophysiology study with catheter ablation where we insert thin electrode catheters into blood vessels which are then guided to the heart," said Dr. Kawasaki. "We then identified the abnormal heart tissue which is causing the arrhythmia and destroyed it by applying heat or freezing energy through one of these catheters. Once this was done, the patients are cured of their arrhythmia."
Dr. Kawasaki explained that arrhythmias occur when the heart's normal electrical system, which controls the heartbeat, is short-circuited effecting the rate and rhythm of the heartbeat. During an arrhythmia, the heart may not be able to pump enough blood to the body which can damage the brain, heart and other organs. Symptoms could include weakness, dizziness, light-headedness, shortness of breath or chest pain.
Treatments for children who have arrhythmias include medicines, defibrillation (electric shock), surgically implanted devices that control the heartbeat and other procedures that fix abnormal electrical signals in the heart.
Living in a developing country, residents of El Salvador have limited access to health care with 40 percent of the homes in poverty condition. Healing the Children also organizes medical missions to third world countries where U.S. doctors and nurses treat dozens of needy children.
"With the irregular heart rhythm corrected, these teens can go back to El Salvador to be active members of their community and be kids again," said Dr. Kawsaki.
Related Posts
Comments
About the Author
health enews staff is a group of experienced writers from our Advocate Health Care and Aurora Health Care sites, which also includes freelance or intern writers.