A heart attack at age 34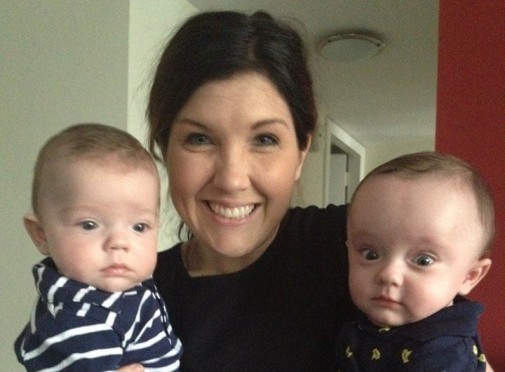 On January 2, 2016, 34-year-old Mary Depp was feeling short of breath. Having had type 1 diabetes since she was 7 years old, she checked in with her endocrinologist, who advised her to go to a nearby emergency department to make sure everything was OK.
Depp said that while at the emergency department, staff performed a few X-rays, an EKG and a CT scan, and told Depp everything looked fine and she could go home.
The next day, Depp had what she thought was heartburn.
"It felt like the worst heartburn that you could possibly have," she says.
She asked her husband if he could grab her some TUMS, and by the time he returned to the room, she had collapsed and was gasping for air.
Depp's husband immediately called 911, and when the paramedics arrived, they performed CPR and defibrillated her before taking her to the emergency department at Advocate Illinois Masonic Medical Center in Chicago, where she was stabilized.
Dr. Mukesh Jain, a cardiologist with Advocate Heart Institute, and the cardiology team at Illinois Masonic, placed a stent to repair Depp's artery, which was 95 percent blocked.
Dr. Jain suspects that Depp's diabetes played a role in her having a heart attack at such a young age.
"Coronary artery disease is uncommon in premenopausal women," he says. "But studies have shown that women with diabetes have a three- to seven-fold increase in risk."
Although heart attacks are more likely after age 45 for men or 55 for women, according to the National Institutes of Health, it's important for everyone to know the signs and symptoms because getting immediate treatment is key to survival, says Dr. Jain.
"Most people know that chest pain is a symptom of a heart attack, but it's so important to know the other symptoms," he says. "For example, about a third of people having a heart attack experience shortness of breath."
Other common symptoms include:
Jaw pain
Pain in the left arm or shoulder
Upper abdominal pain, with nausea and/or burping
Nausea or vomiting
Dizziness or lightheadedness
Anxiety
"Definitely pay attention to shortness of breath or other symptoms. If you feel like something's wrong, trust your gut," Depp says. "Go to a doctor or ER, and ask for a blood test. If you still don't feel well, don't feel bad asking for a second opinion. Don't assume this can't happen to you just because you're young and healthy."
Just over a month since her heart attack, Depp says she's feeling good, aside from some lingering soreness from the defibrillation. Although she's always had a healthy lifestyle, she says her heart attack has caused her to reevaluate and refine her day-to-day.
"We usually cook dinner every night, but now I'm looking at how we make things," she says.
In addition, she is going to cardiac rehabilitation at Illinois Masonic three times a week as she recovers.
"Going to cardiac rehab has been so great for me," Depp says. "It forces me to make time to exercise, which can be hard with two 2-year-olds at home."
Dr. Jain stresses the importance of a healthy diet and exercise in lowering your risk for a heart attack, regardless of your age. In addition, he says you should maintain a BMI between 18.5 and 24.9 and keep your blood pressure under control.
"Although heart attacks aren't common for people Mary's age, it's always good to be aware of your body and be conscious of the fact that heart disease is the number one cause of death in women," says Dr. Jain. "I see so many people who think, 'How can this happen to me?' Ultimately, being young or having normal cholesterol levels doesn't guarantee you won't have a heart attack."
Related Posts
Comments
About the Author
health enews staff is a group of experienced writers from our Advocate Aurora Health sites, which also includes freelance or intern writers.