When twins share more than just DNA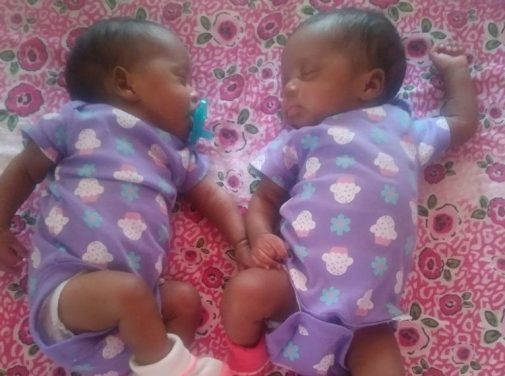 Identical twins share a lot – a birthday and their DNA, for example. But when they share a placenta, they're at risk for a rare but serious in utero complication called twin-to-twin transfusion syndrome. That's when one baby receives too much blood and the other receives too little.
Angel O'Neal's twins were diagnosed with the condition several weeks into her pregnancy. Because the twins were considered to be at stage 2 of the syndrome, her doctor told her she was a candidate for laser surgery to seal off the connection between the babies' blood vessels. In less severe cases (stage 1), treatment can involve draining amniotic fluid from the sac with too much liquid.
"It was the scariest feeling of my life," O'Neal says, recalling how she responded to the diagnosis and treatment plan.
Twin-to-twin transfusion occurs about 15 percent of the time among identical twins. Left untreated, babies diagnosed with twin-to-twin transfusion syndrome are unlikely to survive. The twin with too much blood is at risk of developing respiratory, digestive, heart or brain defects; the other is at risk of anemia and other complications. But today, with the successful intervention of laser surgery, the survival rate of at least one twin increases to more than 80 percent.
O'Neal underwent the procedure at Advocate Children's Hospital's Center for Fetal Care in Park Ridge, Ill.; it's the only hospital in Illinois treating the disorder with laser surgery. In the procedure, physicians use ultrasound to guide them as they insert a small scope through the mother's abdomen into the uterus. Using a laser fed through the scope, they coagulate any shared blood vessels on the placenta. That allows both twins to have their own separate blood supply, permitting normal development.
Mothers who undergo the procedure are at high risk of a leak or rupture to their amniotic sack. After O'Neal's procedure, doctors saw signs of fluid leaking, so an amniopatch was placed until the babies could be delivered.
Maternal fetal medicine surgeon Dr. Suwan Mehra, co-medical director of Advocate Children's Hospital's Center for Fetal Care, performed the procedure.
"It was a tricky pregnancy for her," Dr. Mehra says. "We were walking on pins and needles. But she made it through and has two healthy baby girls."
O'Neal's twins were born at 31 weeks and 2 days gestation – about nine weeks early, but necessary for the health of both mom and babies. They spent several weeks in the neonatal intensive care unit but are now at home, growing and thriving.
Their names are Heaven Marie and Neveah Latrice; Neveah is heaven spelled backward. The celestial names call to mind the miracle of their survival and continued ability to thrive.
Related Posts
Comments
About the Author
Lisa Parro, health enews contributor, is manager of content strategy for Advocate Aurora Health. A former journalist, Lisa has been in health care public relations since 2008 and has a master's degree in journalism from Northwestern University. She and her family live in Chicago's western suburbs.