Fireworks sent this many people to the emergency room last year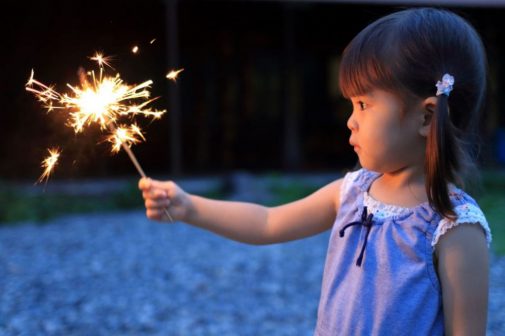 Firework displays have long been a favorite celebration for children and adults alike on the Fourth of July. While the dazzling lights and bright colors are exciting to watch, they are extremely dangerous and lead to thousands of injuries and emergency room visits every year.
More than 9,000 people ended up in the emergency room for firework-related injuries in 2017, according to the Consumer Product Safety Commission (CPSC). Children younger than 15 years old accounted for 36% of those injuries.
"When not handled properly, fireworks can cause serious bodily harm, especially to the hands, eyes and head," says Dr. Raina Paul, a pediatric emergency medicine physician at Advocate Children's Hospital. "A small mishap with setting up or detonating fireworks can lead to injuries from severe burns to eye contusions and even limb amputations."
Dr. Paul says that many of these injuries are easily preventable if people use common sense and follow proper precaution. The best way to avoid firework injuries is to leave it to the professionals and attend a publicly hosted fireworks display.
If you insist on using fireworks at home and it is legal where you live, it's essential that you follow proper safety measures to keep you and your family safe from harm. Dr. Paul shares eight safety tips from the CPSC on how to safely handle fireworks this Fourth of July:
Never use fireworks indoors. Only use them outside on a flat, hard service.
Have a bucket of water, a hose or fire extinguisher nearby in case of an emergency.
Don't let children play with or near fireworks. Do not let the festivities from the holiday distract you from watching your child at all times.
Hold sparklers away from your body at arm's length. Sparklers are not recommended for children under the age of 10.
Point fireworks away from homes, trees, people and other flammable objects.
Only light one firework at a time and don't attempt to relight "dud" fireworks.
Don't mix alcohol and fireworks. Someone who has been drinking should not handle fireworks. Even a small amount of alcohol can impair one's judgment.
Dispose of fireworks safely. Once they have completed burning, soak fireworks in water before throwing them in the garbage. Do not allow children to pick up firework debris.
Related Posts
Comments
About the Author
Meghan O'Grady, health enews contributor, is a public affairs intern at Advocate Aurora Health. She is a student at University of Illinois and majoring in Advertising.