An alternative to your typical New Year's resolutions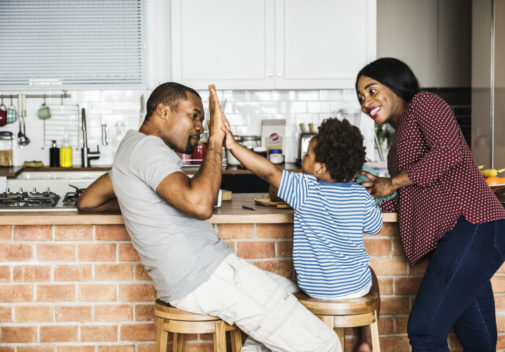 With a new year just around the corner, it's time for that tradition of resolving to make changes. However, without an actionable plan in place, those goals often go by the wayside before the holiday decorations are tucked away.
This year, Dr. Jennette Berry, a family medicine physician at Advocate South Suburban Hospital in Hazel Crest, Ill., suggests skipping making personal new year's resolutions and instead replace them with healthy lifestyle goals for the whole family.
"As adults, we have the opportunity to be the example for the youngsters in our lives by demonstrating ways they can lead a healthy lifestyle. And if you're a parent, chances are your kids could benefit from the same goals you have, such as exercising more or eating healthier," she says.
Need some ideas? Check out these suggestions of healthy goals you can set for the whole family.
Working out: Keep fitness a family affair by looking for opportunities to do activities as a family, including riding bikes to the library and playing catch in the yard before dinner. You also could incorporate friendly competition by offering an incentive to the person with the most minutes spent exercising in a week, such as reassigning a chore to another family member.
Eating healthy: Engaging all family members in meal planning and grocery shopping might empower even the pickiest eaters to eat their veggies. "If the pantry is stocked with healthy foods, kids and adults alike might be inclined to choose those foods – especially if all family members have a say in the foods purchased at the store," Dr. Berry says.
Making time for self-care: Take time as a family to relax for at least 15 minutes after dinner to recharge before the next day. This could be time spent reading for fun or doing a family yoga session in the living room.
Managing stress: Even kids can experience high stress levels between school, chores and extracurricular activities. That's why it's important to teach kids techniques for managing their stress levels. Try meditating as a family before or after dinner as an exercise for being in the moment. When a family member gets frustrated, remind them to take a deep breath and count to 10.
Are you trying to watch your weight in the new year? Take an online quiz to learn more about your healthy weight range.
Related Posts
Comments
About the Author
Vicki Martinka Petersen, health enews contributor, is a digital copywriter on the content team at Advocate Aurora Health. A former newspaper reporter, she's worked in health care communications for the last decade. In her spare time, Vicki enjoys tackling her to be read pile, trying new recipes, meditating, and planning fun activities to do in the Chicago area with her husband and son.