8 food parts you shouldn't throw away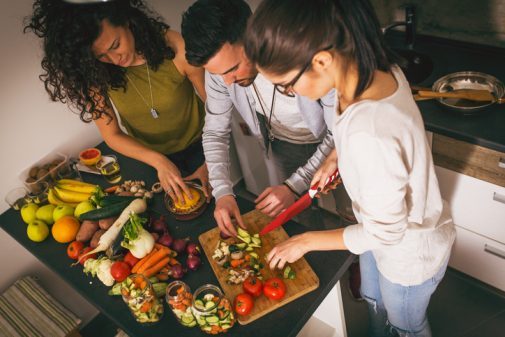 If you are one of the many Americans who throw away fruit peels and vegetable stems, you may be throwing out extra nutrients that your body needs.
"Americans waste a lot of food," says Jamie Portnoy, registered dietitian with Advocate Children's Medical Group in Park Ridge, Ill. "Every year, we throw away approximately 30 million tons of food. I feel that a big part as to why most people do this is due to lack of education."
"If people knew that the rind and peels can be eaten and have the nutritional benefits they contain, I think more people would eat them and fewer would throw them away."
According to a study in the Journal of the Academy of Nutrition and Dietetics, American women do not consume enough daily dietary fiber. Researchers estimate that every day, women wasted upwards of 1.8 billion grams of dietary fiber, which could have satisfied the full daily recommended intake.
Portnoy shares tips on how you can put these eight extra food parts to good use and get more bang for your buck when buying fruits and veggies.
Beet greens – There is a lot more to this red vegetable than many may think. The greens are packed with vitamins, including vitamins A and C. According to Portnoy, beet greens contain 15 percent of the daily value for iron.
Broccoli and cauliflower stems (leaves) – Broccoli and cauliflower are part of the cruciferous family. This means these vegetables are related to the cabbage family, so they are high in protein, fiber and calcium. "Cauliflower leaves can be cooked with the cabbage because they are just like cabbage," she says. "Try composting the broccoli stalks, as it is a great way to turn food scraps into a fertilizer."
Carrot tops – The next time you reach for those cut and peeled carrots, you might want to consider grabbing carrots with the green fronds on them instead. It turns out that these carrots have six times the amount of vitamin A as the orange root. If you are not a fan of the taste, Portnoy suggests boiling the carrot tops for soup stock.
Watermelon Rinds – Did you know? The whole watermelon slice, including the outside green rind, is completely edible. These watermelon rinds are a natural source of citrulline, an amino acid that helps relax and dilate arteries. Another surprising benefit is that the high levels of citrulline also helps boost your libido. If the rinds are too hard to stomach, Portnoy suggests pickling the watermelon rinds or adding it to whatever you are cooking.
Cucumber Skin – You can save yourself some time and energy by not peeling this nutritious part of the cucumber. Instead, Portnoy says to try adding the cucumber skin to smoothies or add it as a topping to your salad.
Orange peels – Who knew this citrus fruit has so many benefits to it? The pith, that white stringy thread around the flesh, contains extra fiber and antioxidants that you may be missing out on if you throw it away. According to Portnoy, removing this pith can reduce the fiber content by a surprising 30 percent. If you don't enjoy the bitter taste, try creating an orange zest or adding the orange peels to drinks, as it could add a lot of flavor, she says.
Scale leaves of the onion – Also referred to as the outer layers of an onion, these leaves contain a powerful antioxidant called quercetin. This peel may contribute to helping cholesterol and blood pressure, fighting allergies, reducing inflammation, enhancing muscle growth and function and treating depression and some forms of cancer. Add this powerful antioxidant to your soup or stick them in the freezer for later.
Outer cabbage leaves – Many people are guilty of throwing away this part of the cabbage, but the leaves are a powerful source of vitamins A, C and B. Instead try new recipes like kimchi and ferment the leaves.
When asked about the dangers of pesticides in consuming these raw outer parts of fruits and veggies, Portnoy says keep these things in mind:
Orange peels are not poisonous
The risk from pesticides on conventional produce varies from very low to very high, depending on the type of produce and on the country where it's grown.
Even small amounts of pesticides may alter a child's brain chemistry during critical stages of development
"I always recommend that when you get home from the grocery store, the first thing you do is wash your produce," Portnoy says. "It's important to even wash banana and orange peels, everything, even if you don't plan to eat the skin or rind."
Related Posts
Comments
About the Author
health enews staff is a group of experienced writers from our Advocate Aurora Health sites, which also includes freelance or intern writers.