What is maskne? And how can you prevent it?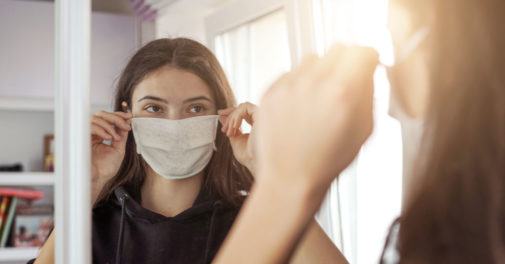 One unexpected result of the pandemic has nothing to do with the virus. Dermatologists have started to see more and more patients coming in complaining of "maskne," a play on the word "acne" that has come to refer to skin issues that result from wearing masks for a long period of time.
"This is a really new situation of wearing masks throughout the whole day," said Dr. David Crosby, a dermatologist at Aurora Dermatology in Waukesha, WI.
Mask-related skin issues vary. For those who have regular acne, wearing a mask can simply make their acne worse. Some people get red, itchy rashes under the mask, around its edges, and by the ears. Others, especially women, can experience an inflammatory acne called perioral dermatitis. Perioral dermatitis is redder than regular acne without any whiteheads or blackheads and is usually treated with low doses of oral antibiotics.
While skin issues can be irritating, they aren't a reason to avoid wearing a mask. Doing so is one of the most clearly proven ways to stop the spread of the virus, along with keeping your distance from others. Wearing a mask now can help ensure the pandemic doesn't continue to get worse.
Dr. Crosby says that maskne can be caused by a variety of issues, but the main culprits are allergic reactions, chemicals in masks, general irritation and dirty masks.
"When you wear a mask for 12 hours, they get pretty filthy inside," said Dr. Crosby. "You drink coffee, sneeze, or cough and the mask gets dirty. Disposable masks are also made with chemicals and can irritate the skin when they start to break down after long periods of use."
To help prevent maskne, Dr. Crosby has a few simple recommendations. If you're wearing a disposable mask, change it regularly. For cloth masks, make sure to wash them often.
"I'd hate to think about what the inside of my cloth mask looks like after even just 4-5 hours," said Dr. Crosby.
To care for your skin, he recommends washing your face regularly with a mild soap and using a moisturizer. If you can get away with it, he'd avoid wearing makeup under the mask.
"Keep your face clean," said Dr. Crosby. "As the winter months come on, your skin dries a lot more. You might have to moisturize a few extra times, including in the morning, at work and at night."
Related Posts
Comments
About the Author
Ben Hoekstra is a public affairs coordinator with Advocate Aurora Health. He previously worked in marketing and PR for various Milwaukee nonprofits and received his master's degree in Corporate Communications from Marquette University. He enjoys the outdoors, cooking, and all things Milwaukee.