How to navigate winter with kids at home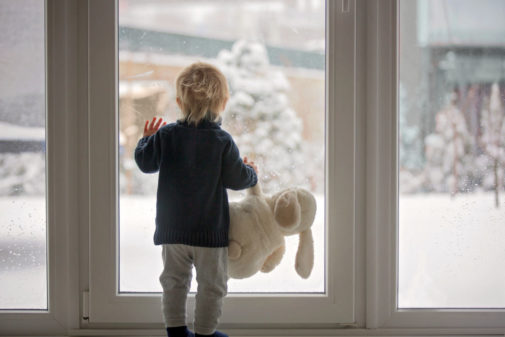 While the COVID-19 vaccine distribution is giving Americans a hopeful feeling that life may return to normal next year, most are still facing COVID-related challenges in real time.
Parents of school-aged children are especially stressed this time of year – balancing a winter break, the holidays, the cold weather and and short days. Many parents are concerned about their children's mental health, worried that another holiday passing without seeing family and friends – as well as virtual learning – will develop into cases of anxiety and depression for their little ones.
Advocate Children's Hospital Pediatric Psychologist Dr. Gabrielle A. Roberts understands the plight of parents during this especially tough time of year and has been offering concrete steps parents can take over the holidays and winter break to keep their family's mental health afloat.
She has a list of 5 tips to share with parents that they can take over the next few weeks to preserve stability and promote happiness.
Here are Dr. Roberts' 5 tips for parents as they navigate the winter months with kids at home:
Focus on the basics: good sleep and a healthy diet. We need our children to be strong in mind and body to be successful and to tackle the challenges that may come. Eating well and getting good rest are critical building blocks for energy and strength.
Maintain consistent daily schedules and routines that include time for exercise and fun! This is tough and will not be perfect, but the more our children know what to expect from each day, the greater their sense of control. Predictability helps to decrease anxiety and helps our children to cope better with their environment.
Get fresh air every day. Fresh air does wonders for our mental health. If it's not possible for children to play outside daily (due to neighborhood safety or parent schedules), get out as often as you can — even if it's just for a quick breath of fresh air — and try scheduling weekly or weekend outings to the park.
Promote communication and connection with others. Connecting with peers is key to healthy child development and promotes good mental health. Finding time for social connection—even if it's virtual—is an important piece of the puzzle in supporting our children.
Help children identify good coping and stress management skills. Work with children to figure out what helps them to relax and to feel better. Coping skills may include things like talking, deep breathing, exercise, drawing, or reading.
Related Posts
Comments
About the Author
Bridget Kozlowski, health enews contributor, is a public affairs manager with Advocate Aurora Health. She holds a masters degree in Public Affairs and a bachelor's degree in journalism, both from the University of Missouri. Bridget previously worked as a reporter for the Chicago Tribune and has also lead local government communications teams for both the City of Sterling Heights, Michigan and the Village of Lombard, Ill. Bridget loves trying new restaurants, traveling and spending as much time as possible with her son, husband and rescue mutt.