How to measure your oxygen level at home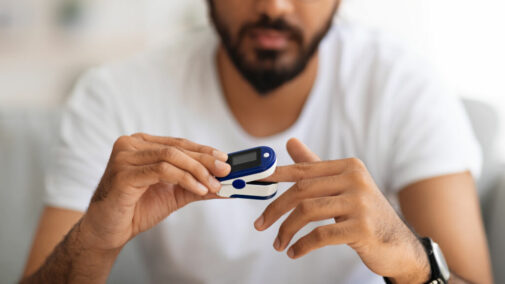 Pulse oximeters are used to measure the oxygen level or oxygen saturation of the blood. A clip-like device is placed on a body part, such as a finger and uses light to measure how much oxygen is in the blood. Pulse oximeters can be purchased at local stores and easily used at home.
"Home over-the-counter pulse oximeters can be useful to monitor oxygen readings over time in chronic illness, however, their accuracy is limited by many factors. While individual readings can be helpful, the trend of the reading is more important," says Dr. Sarang Baman, family medicine physician at Aurora Family Medicine in St. Francis, Wis.
Why might you need a pulse oximeter at home? It may be used to check your health with any condition that affects blood oxygen levels such as:
Heart failure
Chronic obstructive pulmonary disease (COPD)
Anemia – This condition can make a pulse oximeter less accurate
Asthma
Pneumonia
According to the Food & Drug Administration (FDA), many factors may affect the accuracy of the oxygen measurement. The most current scientific evidence shows that there are some accuracy differences in pulse oximeters between dark and light skin pigmentation.
When taking your pulse oximetry at home, make sure to:
Follow your health care provider's recommendations about when and how often to check your oxygen levels.
Be aware that multiple factors can affect the accuracy of a pulse oximeter reading, such as poor circulation, skin pigmentation, skin thickness, skin temperature, current tobacco use and use of fingernail polish.
To get the best reading from a pulse oximeter:

Follow the manufacturer's instructions for use.
When placing the oximeter on your finger, make sure your hand is warm, relaxed and held below the level of the heart. Remove any fingernail polish on that finger.
Sit still and do not move the part of your body where the pulse oximeter is located.
Wait a few seconds until the reading stops changing and displays one steady number.

Write down your oxygen levels with the date and time of the reading so you can easily track changes and report these to your health care provider.
"Recent research has resurfaced knowledge that indicates, in some instances, a pulse oximeter can give a falsely elevated reading in people who have darker skin pigmentation" says Dr. Baman. "Therefore, it can give them false reassurance – this is another reason to know how your readings are trending."
If you are concerned about your pulse oximeter reading, or if your symptoms are serious or getting worse, contact your health care provider.
Want to learn more about your risk for heart disease? Take a free online quiz to learn more. 
Related Posts
Comments
About the Author
Amy Werdin, health enews contributor, is a provider public affairs coordinator with Advocate Aurora Health. She has been with the organization for 19 years, starting out in marketing for Advanced Healthcare, then Aurora Health Care and now in her current role. She enjoys reading, movies and watching her two daughters dance and her son swim.