TAVR heart procedure gives 91-year-old her energy back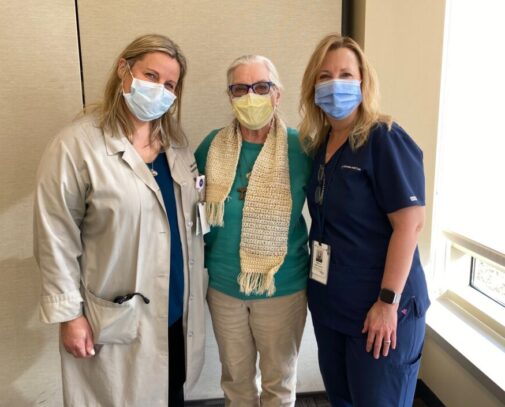 At 91 years old, Lila Pisula is known for her energy that often surpasses that of people half her age. On any given day you can find Pisula driving her car to church, crocheting or spending time with her multi-generational family including nine grandchildren and five great-grandchildren.
That's why Pisula's family was stunned to find she was having trouble breathing and struggling to walk during a family outing to the train museum. Marianne Podgorski, Pisula's daughter, recognized that these symptoms could indicate a heart issue.
"It was especially scary because we've seen the impact of heart issues on my father's side of the family; we lost my father and two brothers to this disease," shares Podgorski.
Dr. Karthik Challa, a cardiologist at Advocate Sherman Hospital in Elgin Ill., diagnosed Pisula with severe aortic stenosis which is the narrowing of the valve in the large blood vessel branching off the heart. According to the American Heart Association, aortic stenosis is one of the most widespread and serious valve issues. This condition is often caused by calcium buildup on the aortic valve. The calcium deposits, which are common as you age, stiffen the valve tissue and limit blood flow. Dr. Challa notes if severe aortic stenosis goes untreated the survival rate is 50% at two years and a mere 20% at five years.
Historically, patients with this condition required open heart surgery. However, the Transcatheter Aortic Valve Replacement (TAVR) procedure offers a minimally invasive option. It uses a catheter, typically inserted near the groin, to position a new valve. TAVR is an excellent option for patients, like the elderly, who have a high risk for complications from open heart surgery.
"Age is just a number. Just because someone is in their 90s it doesn't mean we can't improve their quality of life and longevity," shares Dr. Challa. "Lila is a vibrant person and we want her to continue living that way."
Dr. William Polito, a cardiovascular and thoracic surgeon, and Dr. Richard Park, an interventional cardiologist, successfully performed the TAVR in just over an hour. Following an overnight stay in the hospital, Pisula was able to return home.
"After the procedure, I was excited to go home, breathe and enjoy it," shares Pisula.
A few days later Pisula started walking around and began physical therapy. Soon enough she was back to her usual energetic self, including driving to church every day.
"To me, the procedure sounded impossible, but they did it," admits Pisula. "They worked really beautifully together as a team, I was amazed."
Want to learn more about your risk for heart disease? Take a free online quiz to learn more.
Related Posts
Comments
About the Author
Elizabeth Blasko is a public affairs coordinator with Advocate Aurora Health. She studied public relations and nonprofit leadership at Western Michigan University. Prior to joining Advocate Aurora Health Elizabeth worked at Bernie's Book Bank, a nonprofit dedicated to increasing book ownership among underserved children. In her spare time, she enjoys reading, watching auto racing, spending time with family and keeping active with her rescue dog, Bristol.