How much weight should you gain during pregnancy?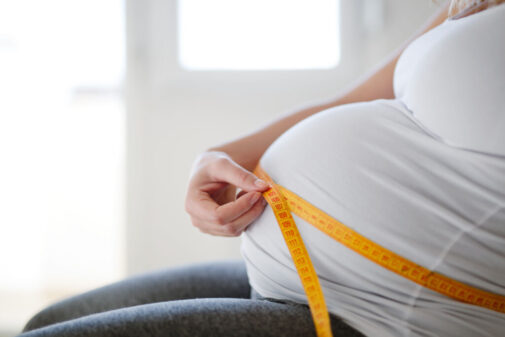 Discussing weight can always be a sensitive topic, but as a pregnant person's baby grows and their body changes, it can be an important conversation to have.
"It's important for patients to feel comfortable discussing weight with their physicians while not being judged," says Dr. Daniel Miller, obstetrics and gynecologist physician at Advocate Medical Group in Park Ridge and Mount Prospect, Ill.
Dr. Miller says the amount of weight a patient needs to gain in pregnancy depends on their starting weight and body mass index (BMI).
"BMI is not a perfect indicator of total fat and total lean tissue in a person's body, but it is a good screening tool for doctors and other clinicians," says Dr. Miller.
There are some estimates for how much weight a person can expect to gain during their pregnancy:
If someone has a healthy BMI of 18.5-25, they should expect to gain 25 to 35 pounds
A patient who is overweight, or has a BMI of 25-30, should expect to gain 15 to 25 pounds
For those who are obese, or have a BMI over 30, 11 to 20 pounds of weight gain is normal
"These are just estimates and each patient needs to work with their doctor to determine their ideal weight gain during pregnancy," says Dr. Miller. "For example, a patient who is very muscular may have a BMI in the overweight range but a total fat mass in the normal to low range, so their recommended weight gain would be different than a sedentary person in the overweight range."
Determining your ideal pregnancy weight gain is important because there can be complications if you gain too much weight or not enough weight.
Excess weight gain in pregnancy increases the following:
A mother's risk for a large baby
Gestational hypertension/preeclampsia
Preterm birth
The need for a c-section
Having a higher starting weight in pregnancy can also increase a patient's risk for these and additional complications like gestational diabetes and birth defects, says Dr. Miller.
Weight retention can also be a concern.
"Children born to mothers who gained excess weight in pregnancy have a higher chance of childhood obesity," says Dr. Miller.
If a person does not gain enough weight during pregnancy the following complications could occur:
Small or growth restricted babies
Birth defects
Difficulty with breastfeeding
Increased risk for illness or developmental delays in babies and children
"It is important to note that for most patients some weight gain is necessary. Many patients can be concerned about gaining too much weight, but inadequate weight gain and poor nutrition during pregnancy can be more dangerous than excess weight gain," says Dr. Miller.
Are you trying to watch your weight? Take a free online quiz to learn more about your healthy weight range here. 
Related Posts
Comments
About the Author
Brittany Lewis is a media relations coordinator at Advocate Health Care and Aurora Health Care. She previously worked as a reporter at TV stations around the Midwest, including Milwaukee. She studied at DePaul University where she majored in Journalism and Public Relations. Brittany enjoys traveling, hanging out by Lake Michigan, trying new restaurants and spending time with friends and family.