Detecting mental health issues in kids early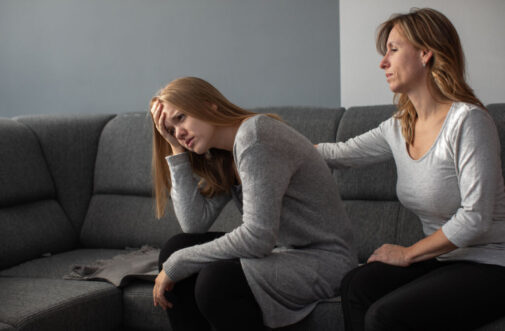 In 2021, over 40% of students felt persistently sad or hopeless and nearly one-third of students experienced poor mental health, according to new data from the Centers for Disease Control and Prevention (CDC). While this data is startling, it affirms what we have been seeing across the country: anxiety and depression are on the rise in children and teens.
"The numbers continue to grow, and the pandemic caused those numbers to jump remarkably," says Dr. Julie Holland, a pediatrician and vice president of pediatric primary care at the Chicagoland Children's Health Alliance.
Anxiety and depression tend to go hand-in-hand, and sometimes parents are unsure of the best way to detect the signs in their child. In these cases, a mental health struggle may not be detected until it has progressed or worsened and the signs start to become more apparent in the adolescent. This can include having trouble sleeping, not participating in activities they're usually interested in, not wanting to see their friends, loss of appetite or a decline in grades.
The longer treatment is delayed, the higher the probability for symptoms to progress to more debilitating types of anxiety and depression. This is why Dr. Holland recommends starting the conversation before symptoms even appear.
"Making an appointment with your child's pediatrician is an excellent way to start the process. Most pediatricians screen kids for depression annually at their check-ups starting at 12 years of age and older. In addition to that, many pediatricians also screen for anxiety. Discussing the options with your child's pediatrician is a good first step," Dr. Holland says.
Once a baseline is established, it is easier to detect any changes in your child's behavior as soon as they occur. If at any point additional mental health support is recommended for your child, their pediatrician can help guide you along that process.
"Preventive care for our physical health is so important. We want kids to be active and eat a healthy diet to help prevent illness down the road. Approaching mental health and wellness in the same way can really help with early identification, which makes such a difference in the long run," says Dr. Holland.
Talk to your child's pediatrician at their back-to-school physical this year about adding a mental wellness check to their annual visit. Schedule a visit in Illinois or Wisconsin.
If your child or teen is experiencing a mental health crisis that requires immediate medical attention, go to the nearest emergency room or call 911.
Related Posts
Comments
About the Author
Lee Batsakis, health enews contributor, is a public affairs coordinator with Advocate Children's Hospital. She graduated from Western Michigan University with a degree in public relations and has worked in health care since 2013. Outside of work, she enjoys reading, exercising, and spending time with her fiancé and two dogs.